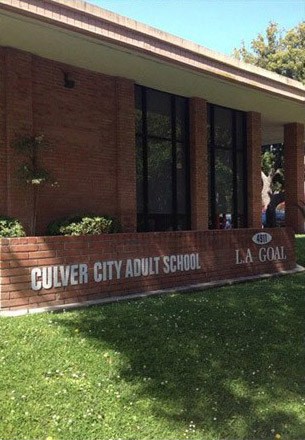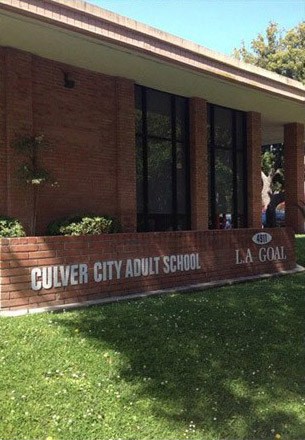 Speaking to me in my capacity as Programs Specialist for Culver City Adult School, a friend, colleague and fellow writer recently suggested to me that I might need to reconsider the "night school" image that a place like Culver City Adult School might portray. I was in shock for a moment; a person my age remembers the concept of "night school." When you drive down Venice Boulevard, you can still see a neon sign that bespeaks a fluorescent lit classroom with middle-aged people people working on earning their GEDs.
My vision of an adult school is a place where people of all ages and backgrounds can come together and share knowledge, wisdom, expertise and experiences. I was caught by surprise when she said it. I'd never thought of adult school in those terms, and certainly not Culver City Adult School, where we are in the business of turning dreams into reality. We indeed, and proudly, have programs that help people earn their high school diplomas, if, for whatever reason, they never did so "on schedule." We are also famous for our ESL program, again turning the American dream into reality for people who, for whatever reason, decide to come to America. People contact us from abroad, even, telling us they will be arriving soon, and would like to study English at our school. These and other state-funded programs comprise about half of what we do at our dream factory.
Then there are our so-called "fee-based" classes, series of learning experiences designed to serve the surrounding community with a place to gather with like-minded people. My particular professional role at the adult school is that of product development and marketing of this program. Employed as a Japanese teacher for our adult school since Y2K, a recent internal career move enabled me to expand my role with the school. Our still-developing program plans to provide our community with a meeting place where you can become a part of our own flute choir, where you can enrich your life through the arts, where you can develop your professional skills, or where you can meet old friends and make new ones at one of our dance events. Check our web site for new developments at: ccas.ccusd.org.
My first foray with an adult school was in January 1976, six months in advance of my graduation from high school. I showed up at the office below the sign that still exists on Venice Blvd, where LAUSD offered a Japanese class, right in my area! I can't remember how I found out about the class, in the days before the internet; I wonder if they would have sent a mailer to my house?
I'd just turned 17 the prior December, but when I showed up they said you had to be 18 or over. I quickly changed my birth year on the form to 1957, hoping they wouldn't ask to see my driver's license. I was used to such ruses; I attended UniHi instead of Venice High on my grandparent's address, and my sister started school a year earlier that she would have after my father found a way to having to avoid the school system's arbitrary December 3rd cut off date. Being Jews, my family were generally rule followers, but then again, being Jews, we were suspect of suspicious and/or arbitrary government intervention.
Fast forward from learning Japanese to teaching Japanese to managing such a program itself… to the selling of dreams. Culver City Adult School's crown jewel "product" is actually not for adults at all, unless you consider being able to close your eyes and voila, have a fun, safe and educational place to send your kids for the summer an adult initiative. Our "Summer Enrichment 4 Kids" program, which has been filling up since January (reserve your child's spot now!) has been a community staple for as far back as anyone can remember; I have written about our K-8 Japanese program before many times in this column, not to mention our K-8 Spanish program, our cornucopia of arts, sports and "STEM" classes, our 8am to 6pm supervision, and our well-equipped campus facilities on the Farragut and Middle School campuses. Register now at: ccas.ccusd.org and press: "Kid's Programs" or "Summer Enrichment 4 Kids."
Our newest initiative is our Culver City Community Dance series, starting with a Contra (an American Folk Dance, similar to square dancing) Dance event on Saturday night, March 26th. We will start at 7:30pm with what is known as a "walk through," where basic moves are taught, although the steps and patterns are easy, no experience necessary, and people can show up any time during the course of the evening. We'll have half-time snacks featuring root beer floats, and an after "prom" meet up at a local restaurant. Admission is $12 for adults, however, ALL Culver City residents and CCUSD employees showing ID will receive a $2 discount, and CCUSD students accompanied by a paying adult are FREE! Check our web site for more information on our Contra Dance event!
Culver City Adult School, like a community center, is a place to enrich your life. We are not just looking for people to take our classes and attend our events, we are looking for people to teach for us as well. Share your knowledge of exotic languages and cultures, creative cuisine preparation, or special workplace skills. Become friends with others in your classes, whether they be the instructor, or fellow students. Become part of the conversation, take part in the party. Visit our web site, also visit Culver City Adult School's Facebook page, or write to us at [email protected] with ideas, feedback, and things you'd like to see us do for, in, and with the community.