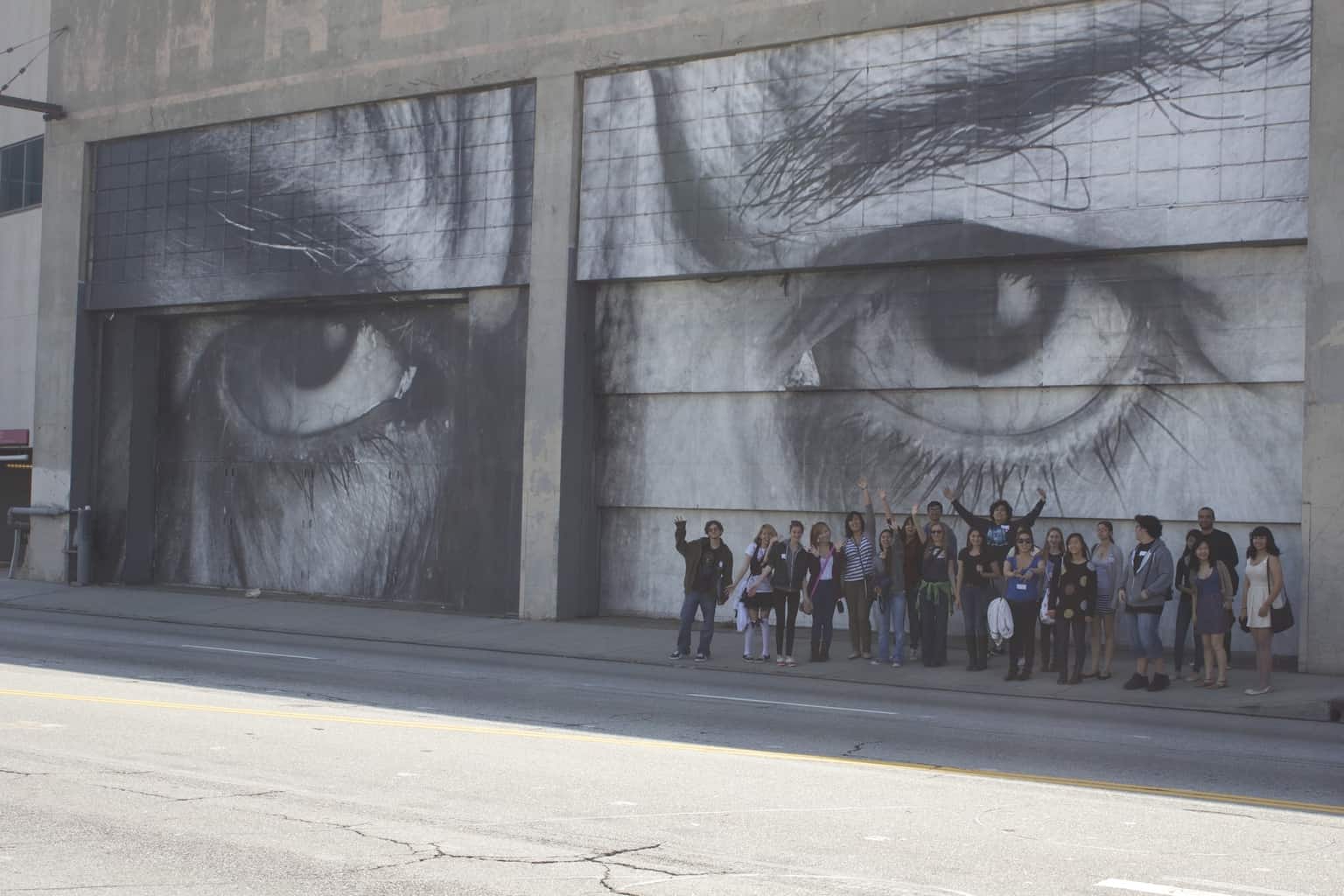 The Culver City High School Academy of Visual and Performing Arts (AVPA) has 30 art students who participated this year in a community arts program in association with The Museum of Contemporary Art (MOCA). Working alongside artist and gallery owner Casey Zoltan from The Seventh Letter and Aaron Rose, artist, director, and co-curator of MOCA's exhibit, "Art In The Streets", they have been participating in workshops each week, and their work will culminate in the student exhibition, "Not For Sale."
The exhibition will take place at Known Gallery, located at 441 North Fairfax Avenue in Los Angeles. The event will be held on Friday, April 22nd from 7:00-9:00 p.m. The event is FREE and open to the public.
Students participating in this ten-week intensive workshop drew inspiration from many different sources in the contemporary world of street art. At MOCA's Geffen Contemporary, they had special access to the exhibition "Art in the Streets", which explores the history of street art including graffiti. The students were able to talk with world-renowned street artists as they worked and installed their pieces for the show. Throughout the program, important guest speakers Megan Baltimore, Co-founder of Girl Skateboards and Paul Mittleman, the Creative
Director of Stussy, visited the workshops to share their insights into the streetwear industry with the Academy art students.
MOCA's Geffen Contemporary's "Art in the Streets" is the first major U.S. museum exhibition of the history of graffiti and street art. The exhibition traces the genre's development from the 1970s to the global movement it has become today, concentrating on key cities where a unique visual language or attitude has evolved.
For this project, AVPA art students effectively formed five distinct streetwear companies. Each group created its own brand and worked together to create blogs, mission statements, logos, and original designs for t-shirts, tote bags, spray cans, skateboard decks, and lookbooks. Their unique streetwear products will be on display at the final exhibition (although they will not be available for purchase, as suggested by the show's title, "Not For Sale.").
"It was such a unique and exciting experience to meet artists and designers who started out where we are today and have become so successful," says high school senior Lara Evans, reflecting on the MOCA program's impact on her and her classmates. Junior AVPA art student, Ahin Ju, says of the project, "Working as a team to form a company has given me an in-depth look at how you can use your creativity to run a business. I feel so fortunate to work alongside the artists, designers, and major company CEO's who provide us an inside look into the street art world."
AVPA's Co-Director and The Director of the Art Program, Kristine Hatanaka, also takes pride in the students' work. "I am incredibly grateful for the programming developed by MOCA's Education Department. Each year, my students are engaged on a deeper level to learn about Contemporary Art and develop an understanding of their creative process in such a unique way. AVPA art students are given a once-in-a-lifetime experience to learn from these professional artists, designers, and curators who help cultivate their ideas to create original works of art. MOCA makes the entire art making experience more meaningful and inspires them to continue making artwork."
Sony Pictures Entertainment, The Museum of Contemporary Art, and Make Something!!, a cooperative committed to offering creative workshops to young artists, provide the support and made, "Not For Sale" possible.
"Sony Pictures has been a proud sponsor of MOCA's education initiatives, including Contemporary Art Start since 1997," says Janice Pober, Senior Vice President of Corporate Social Responsibility at Sony Pictures Entertainment. "These in-depth programs have culminated in exhibition opportunities for AVPA's visual art students. Since 1997, we have taken enormous pride in seeing the artwork produced by Culver City High School's talented students. The unveiling of this year's exhibition will be exciting to see."