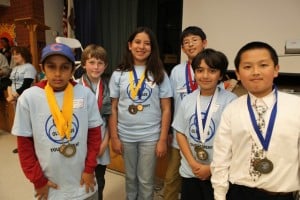 Why would fourth- and fifth-graders get together during recess or after school to work math problems? Why would they give up soccer matches, baseball games, play rehearsals, or just some downtime on a Saturday morning to try to solve a bunch of word problems faster than kids the next city over?
Well, says fifth-grade "mathlete" Emily Wulf of Linwood E. Howe Elementary, when you do math as a team, "It's a lot more fun, and you can be with your friends." Plus, says Wulf, who is also student government president, a soccer player and a trumpet player, "You get advice from the others. You check their work and they check your work, so you really have a better chance of getting the problems right."
In 2008, Lin Howe, under the leadership of then-Principal Rosie LaBriola and retired UCLA assistant dean and adjunct math professor Jason Frand, Ph.D., became the host school for the regional, year-end elementary-level finals of the international Math Olympiads for Elementary and Middle School (MOEMS). Only three schools, Linwood Howe and La Ballona Elemenatry of Culver City, and Seaside Elementary of Torrance, 25 kids total, competed in the First Annual Linwood Howe Math Olympiads Tournament. The contest steadily added mathletes and schools. In 2009 and 2010, one Culver City student, both years from El Marino Language School, took an individual medal, and one city team, again from El Marino claimed a team trophy.
While the contest has been expanding, CCUSD schools have been training its math talent. At Linwood Howe and other Culver City schools, candidates for the regional tournament participate in weekly team practices and receive coaching, not only in mathematical operations, but also in critical-thinking, creative problem-solving and teamwork skills. This March, the 35 kids from Culver City schools who qualified for the tournament also got together for joint coaching sessions led by Dr. Frand and Lin Howe parent Darren Kessner the month before the event. And it looks like all this teamwork is paying off.
The Fourth Annual Linwood Howe Math Olympiads, now with with 125 mathletes and 16 schools competing, was held on Sat., March 19. For the first time, Culver City kids won two individual medals and two team trophies.
In the individual round, fifth-graders Tanner Patton of Farragut Elementary and Pavan Tauh of El Marino Language School correctly solved eight of 10 word problems (for one point each), as did Sarah Gonzalez and Anthony Pineci, both of The Mirman School for Gifted Children in Brentwood. A double tie-breaking round resulted in Patton sharing third place with Mirman's Pineci, and Tauh sharing fourth overall with Gonzalez. Ethan Zuo of Meadows Avenue Elementary in Manhattan Beach claimed first place with a perfect 10, and Mirman's Kevin Shao took second with nine points.
Yet it was in the team round, in which groups of five competitors try to answer 10 word problems (three points each) in 20 minutes, that Culver City students really shined. The Farragut team of Patton, Abigail Kim, Ethan Small, Isabella Uchimura and Michael Wang captured the second-place team trophy, trailing Shao's first-place Mirman team in combined individual scores, but earning the highest team score of all, 21 points—three points and one correct answer ahead of the first-place Mirman team.
The El Marino team of Tauh, Garrett Rifkin, Hayley Yamamoto, Isabel Musselman and Sterre Hesseling took fourth place only one point overall behind Zuo's third-place team from Meadows, but still beat them by three points and one extra answer on the team questions.
For Linwood Howe Principal Amy Anderson, formerly a math teacher at Culver City Middle school, it's really the team event that makes this competition so important. "When you grow up and you're looking for a job, it's the team skills that employers really want," she tells the mathletes while reviewing approaches to the team-event questions. "They want you to be able to work with a team and to be able to reason through and negotiate through your thinking. So the fact that you're getting this now is amazing. I want you to hold on to that."
As an education-minded city trying to emerge from an economic crisis in a math-phobic nation, what could be better to hold on to than that?