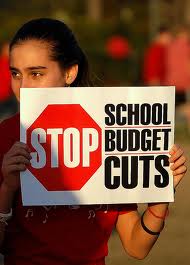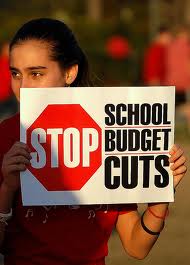 PTAs throughout the district will be organizing demonstrations in front of each CCUSD school on the morning of Friday, May 13 to oppose the proposed budget cuts coming out of the state Legislature in Sacramento.
CCUSD opposes a cuts-only state budget and supports a balanced budget with a combination of cuts and revenue extensions. Our schools and students are in a state of emergency until lawmakers pass a balanced budget and approve the needed revenue extensions to support education funding, especially since K-12 education funding has taken a disproportionate amount of budget cuts over the past several years.
State and local funding for schools has been cut by more than $18 billion, or about $1,900 per student in the last three years; Culver City Unified School District has cut $6,456,652.00 from its budget over that time as a result of ongoing statewide cuts to education funding.
CCUSD will be forced to cut an additional $3 million from its budget if the Legislature does not pass revenue extensions, so the California School Boards Association, Association of California School Administrators, California Teachers Association and other members of the Education Coalition support local communities in planning events and activities throughout the state during the week of May 9-13.
The demonstrations follow a similar series of demonstrations throughout the district last year. Contact your PTA to find out how to get involved.