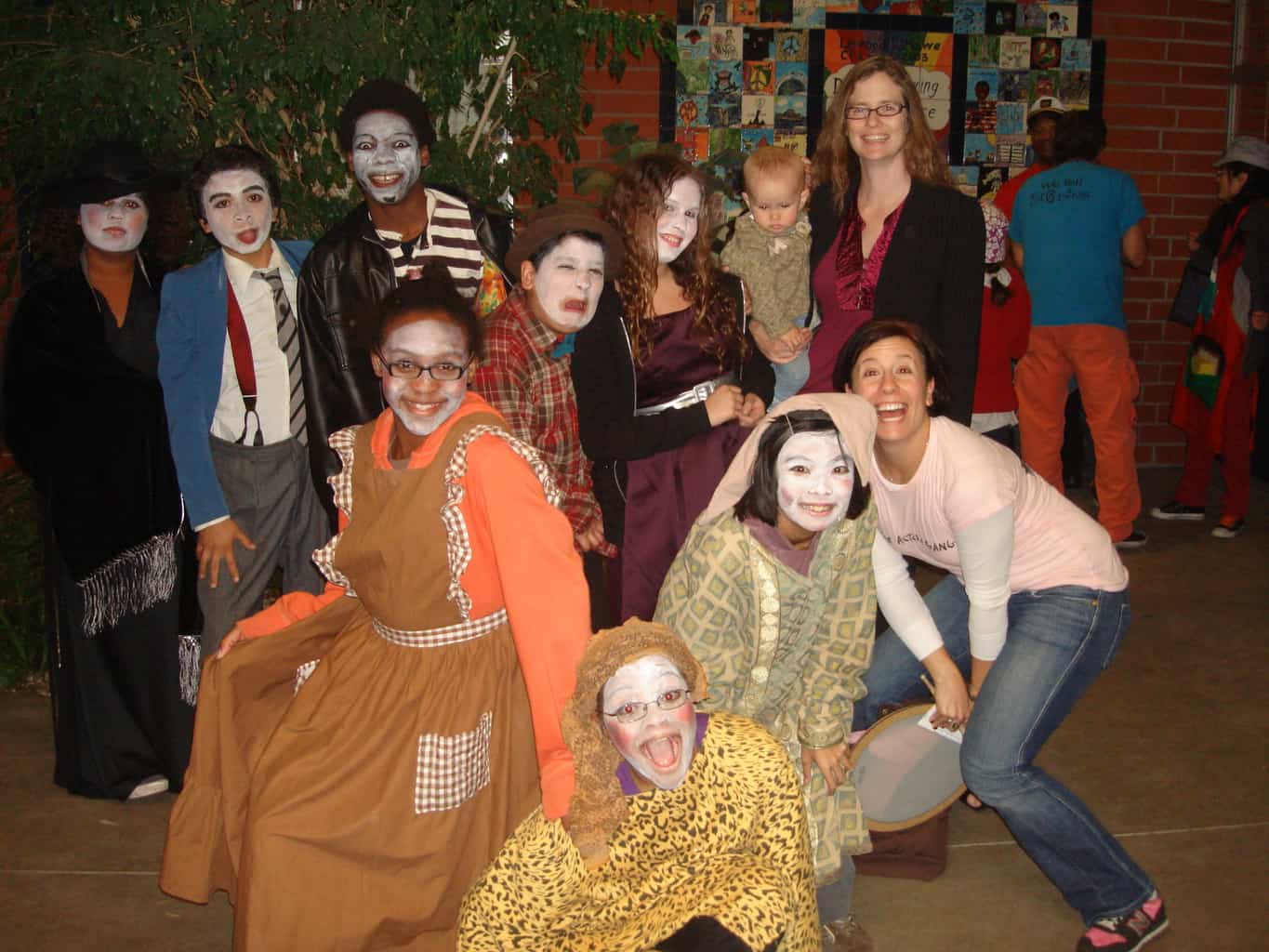 At the March 9 board meeting, the District Community Arts Team co-chairs including the Assistant Superintendent of Educational Services, Gwenis Laura, District Arts Consultant, Inez  Bush and Farragut parent, Kathleen McKernin were presented with a proclamation for March is Arts Education Month by the school board. Next was the inaugural presentation of the NEW CCUSD Theatre Collaborative "Front and Center". The Board enjoyed a 20 minute performance by students from La Ballona, CCMS and CCHS AVPA who participate in programs with CCUSD arts partners, We Tell Stories, The Actor's Gang and Centre Theater Group.
Inez S. Bush, CCUSD District Arts Consultant, said, "The brainchild of Janice Pober, Sony Pictures Entertainment's Senior Vice President Global Corporate Social Responsibility, we wanted to bring together three theater companies currently providing theater learning opportunities for our students. Given the current economic downturn we could forsee the struggles theater companies are having on their own. At the same time we were ready to add the theater arts component to our educational plan this year. Thus, the idea of a theater collaborative was born. There is strength in pulling us all together not only for grant funding, but sharing of resources. We wanted to create a prototype that can be used to strengthen and build arts programming for the district, yet not add any fiscal burden to the district.
To date three main grant funders provided the backbone to this program. Sony Pictures Entertainment, the Carol and James Collins Foundation and the Culver City Education Foundation have made it possible to start Front and Center. We have already achieved the first stage of our plan by bringing We Tell Stories performances and professional development workshops for teachers to CCUSD elementary schools this year. We expect additional funders to be attracted to this collaborative model as we continue to expand."
Carl Weintraub, Founder and Chair of the We Tell Stories Board of Directors, Diana Tanaka, Artistic Director and Gerald James, Core Member presented the theme "Literacy" by building a bridge between storytelling and theatre. They used a presentation from an assembly program called "Let Them Eat Books" – a portion of "The Walrus and the Carpenter" by Lewis Carroll from Through the Looking-Glass. La Ballona Students who performed were Isabella Chardiet, Kaleb Callaban, Maggie Guthrie, Arely Hernandez and Jacob Miller.
Vanessa Mizzone, Director of Education from The Actors' Gang presented the theme "Empathy & Respect" by engaging the Culver City Middle School Students in a theatre in the round. Students that participated were Folashade Adewunmi, Hannah Berkovich, Lucas Dos Santos, Ricky Ramirez, Mel Rowe, Khrizia Allen Torres, Matthew Villena and Autumn Walters.
Leslie Johnson, Director of Education and Outreach from Center Theatre Group presented the theme of "Student Engagement". This presentation was written and directed by Sheila Silver, Creative Director Theatre Arts, AVPA at Culver City High School. This was performed by Culver City High School Students Adam Caicedo, Sybyl Cowrey, Olivia Finnegan, Justin Forsythe, Olivia Grim, Angi Harvey, Nicole Julian, Amy King, Marina Martinez, Cameron McGowens, Kevin Mitchell, Aaron Moses, Conor Murphy, Sierra Parsons, Tristan Price, Lena Ransfer and Eli Reich.
The Front and Center Theatre Collaborative has been formed to sustain and increase theatre education in CCUSD during the current economic downturn and beyond. The collaborative includes stakeholders from the Culver City Unified School District's learning community, The Actors' Gang, Center Theatre Group, We Tell Stories and the Culver City Education Foundation. The Front and Center Theatre Collaborative aspires to a future with a sustainable, comprehensive, CCUSD K-12 theatre arts curriculum and program.
The planning stages began in June with initial meetings to develop a preliminary action plan with identifiable milestones that will lead to creating a 3-5 year strategic plan with defined goals and developing a K-12 theatre arts comprehensive sequential curriculum.
Inez continued, "Theater is a creative, collaborative and cooperative art form and theatre education provides and promotes opportunities for our students to deepen literacy, develop empathy and respect, and be fully engaged and empowered in their own learning. The premier year of this collaborative, 2010-2011 has been entirely funded through generous grants from Sony Pictures Entertainment, The Carol and James Collins Foundation and the Culver City Education Foundation. Partners and stakeholders have contributed their time and expertise to building this initiative."
The Front and Center kick-off to parents and the community will be held in October.
Questions please call Inez Bush at 310.842.4220 x.4215