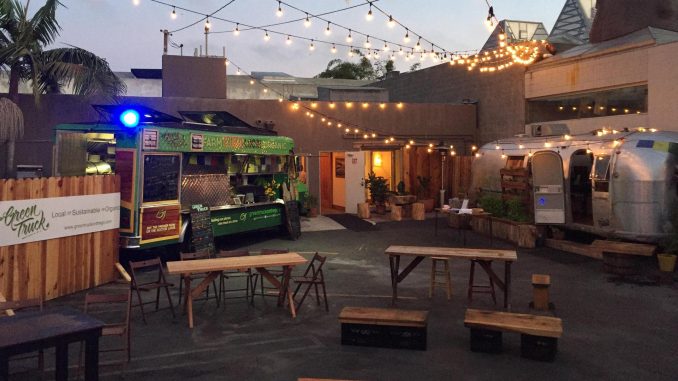 If you are a fan of the clean, organic food offered from The Green Truck, think about checkin g out their newest adventure; The Truck Stop cafe. We all like different things at different hours, and the plan is all-day service for diners looking to eat from a truck without chasing one down. With an opening scheduled for the last week of April, the wait won't be too long.
According to the indefatigable LA Eater, the idea of a stationary truck that customers go to for their meal is far from revolutionary. Nor is the idea of a rotating collection of trucks parking at the same spot during designated times. Rather, The Truck Stop aims to create a space that is part permanent, part rotational, offering different experiences from morning to late night. There will be Verve Coffee in the morning and takeaway snacks for those on the go, followed by outdoor seating and lunchtime eats from a new truck daily. In the evenings, The Truck Stop will offer al fresco dining either with a different local truck, or with a standalone taco cart.
The cafe is, in part, backed by the folks who run the longstanding healthy-eating Green Truck, but it should cater to a variety of trucks and tastes. Expect an opening sometime mid-next week, with longer hours to follow.
The Truck Stop
10100 Venice Blvd.
Culver City, CA
(coming soon)