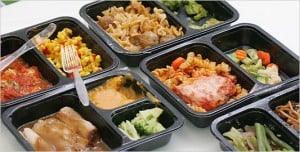 What does an organization that feeds hungry people offer it's volunteers? Well, lunch, for starters. Volunteers were treated to a mid-day meal and a peek at the future of the Culver-Palms Meals on Wheels (CPMOW) organization last week. Planning for the future began by acknowledging the past; awarding volunteers for their years of service, including the longest serving 15-year veteran Dennis Murray.
"We averaged 1,680 meal deliveries a month last year," Board chair Elizabeth Cundiff told volunteers and staff. "That's an 11 percent increase." She said the goal is to have 100 clients, and they currently operate just under that. 2015 was also notable because it had the highest expenses of any year, yet the group had a small surplus of $3,800, said Executive Director Pam Frieden.
"We've been working with our sponsors to personalize our client service," she said, citing valentines cards from the Wish Charter School, gifts from Sony, plants from the Westwood Charter School and holiday cards from the CPMOW board.
Operated by 4 full and part time staff and 3 contractors, the group depends on volunteers to prepare the meals delivered to Grace Evangelical Lutheran Church five days a week. These must be sorted and packed into the correct containers for each of nine routes. The must be checked for regular and special meals, diets, extra meals and special orders.
Office Assistant Suzanne Moeller "is automating the special food labels," Cundiff said, "that will be such a help."
Meals on Wheels, which began in 1943 in World War II England by feeding soldiers and families left kitchenless by the blitz bombings, still delivers hot and cold meals to those who cannot cook for themselves. Culver-Palms, founded in 1974, is one of 5,000 American programs that operate independently across the U.S. Anyone can apply to receive meals up to five days a week. They currently get a hot meal and a cold snack for $7.
"They cost us $4,50, but we have expenses to meet, so there is no profit," Frieden said. "We were able to offer subsidies last year for those who cannot afford the meals. We charge on a needs basis and had nine clients who were total subsidized last year and others who paid what they could afford."
She visits schools and charity groups for donations and inspired many last year, including a young boy who raised $200 for "people who don't have enough to eat" by selling dipped Oreo cookies to football fans on his block during the Super Bowl last year.
"There are people out there who are really hurting," she said, "who cannot afford even $7 a meal." Her goal, she said, is that "nobody goes without food."
The groups hopes to attract 100 volunteers, including drivers and deliverers and substitutes as well as packers, callers, and other positions in the office. Call 310.559.0666 or go to www.mealsonwheelsculverpalms.org for more information, to volunteer or to donate.