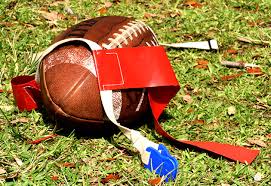 The Culver City Culver City 6th Grade Flag Football team, unbeaten and unchallenged in the 6th grade league, moved up to face more competitive 7th and 8th graders in a D-1 League. After a minor hiccup in their first game, a loss to Ocean, the Culver City Panthers faced Park Century School Tuesday at the Culver City field. Park Century, fielding a team that outweighed the Culver City team by more than 40 pounds per player, expected to run over the perceived overmatched Panthers. However, Culver City drove the ball on their first possession, and while failing to score, Culver City let it be known that it wouldn't back down to anyone.
On their second possession, Culver City drove 75 yards on eight plays, ending with a seven yard quarterback keeper by William Schultz for a touchdown. After converting the two point conversion, Culver City led 8-0. After stopping the high powered aerial game of Park Century on the second series, Culver City was unable to move the football, resulting in a Culver City punt. Park Century's return man took the Culver City punt and maneuvered his way for a 56 yard punt return for a touchdown. Park Century converted the two point conversion, knotting the score at 8. Park Century threatened to score again as time was about to expire in the first half, but Culver City cornerback Royce Williams intercepted a Park Century pass at the Culver City five yard line, ending the threat and the half.
Culver City struck early in the second half, as David Lee caught a William Schultz short pass and turned on the burners outrunning the Park Century defenders for a 71 yard touchdown. Schultz connected again to Lee for the two point conversion, giving Culver City a 16-8 lead. The Culver City defense, led by David Lee, Thomas Chee, Emmanuel Shaw, Alba Navas, Mia McKinley, Royce Williams, Brandon Zeidman, Elijah Adams and William Schultz refused to give in, bending occasionally, but never breaking. With less than two minutes to go in the game, Park Century challenged strong side cornerback Brandon Zeidman for a fourth, unsuccessful, time. Zeidman cut in front of the intended receiver and intercepted the Park Century pass at the Culver City ten yard line, ending the Park Century threat and effectively the game.
Emmanuel Shaw led the Panthers in rushing, accounting for 74 yards on the ground. William Schultz threw for 97 yards and a touchdown, and David Lee led the Panthers with 81 yards receiving. The Culver City defense, which has stymied 6th graders consistently, held Park Century to just 81 yards in total offense, intercepting two passes and keeping the Park Century offense out of the end zone.
Culver City, 3-0 in the 6th grade league faces WISH #3 on Friday at 4:00 pm at Culver City Middle School. The Panthers go at it again in the more competitive 7th/8th grade league with a home game against Westchester Innovative School House next Tuesday at 5:00 pm.
– Scott Zeidman