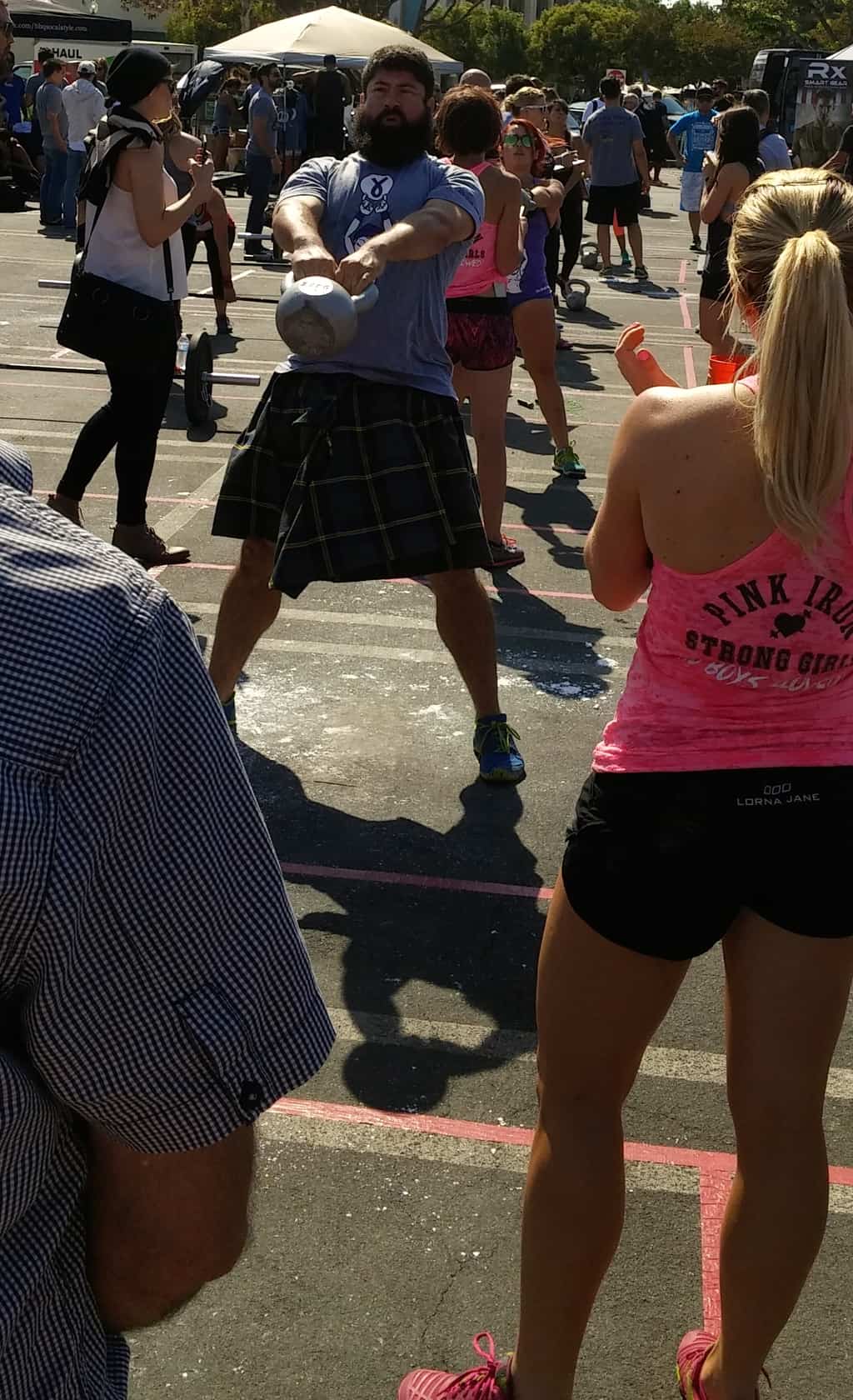 Downtown Culver City was an eyeful of eye candy this past weekend.
Rippling, sleek, extra-lean bodybuilders competed for prizes at the Veteran's Memorial Building, while in the city's Event Triangle (aka Parcel B) between the Culver Hotel and Trader Joe's, CrossFit gym enthusiasts lifted, swung and jumped to raise cash for cancer.
The fourth annual Cancer Crush, sponsored by the DogTown CrossFit Gym on Washington, raised $200,000 from some 50 contributing CrossFit gyms worldwide for Stand Up for Cancer, a Southern California charity dedicated to raising research funds. Gym founder Adam Noble is a cancer survivor and co-founder Dusty Hyland has family members who have battled the disease. Four years ago, they hosted a CrossFit competition in Culver City, drawing enthusiasts from Southern California who follows the unique fitness regimen that has spread across the world.
"We'd just started the gym and thought we could raise some money for cancer," Hyland said, riding herd on the melee of sweaty competitors, camera-clicking fans, cheering supporters and the occasional curious passerby on Saturday.
"We were really surprised how fast it's grown. We raised more than $250,000 last year, and this year gyms in the Philippines and Dubai haven't had their fundraisers yet."
Noble's father watched his son orchestrate the event from the announcer's booth. "He had cancer seven or eight years ago," he said. "Now he's giving something back. I'm very proud of him."
Among the garbage can lid-size barbells, jump ropes and a metal object called a kettleball that is swung between the legs and over the head with a velocity that could break things if not handled carefully, I was intrigued by a giant of a man in full beard, kilt and a personal cheering section in pink clothes from West Hollywood's Pink Strong, no-boys-allowed, gym.
"That's Howard," one said. "He's a massage therapist, from Trigger Point." Howard did his intermediate division reps to the tune of their cheers and giggles: Power Clean barbell lifts; KB swings; Burpees; Shoulder to Overhead barbells; and Double Under jump ropes. Repeated three times.
I asked Howard his name; he replied, "Reichenbach." I said that didn't sound like a Scot. "It's not," he smiled. "It's the Marine Corps tartan." I knew the Marine Corps is fit, but who knew it was Scot?
A half dozen novices followed the advanced and intermediate divisions. I was drawn by a rare sight
among competitors: a smile. A black-haired woman, clearly new to the sport, gamely lifted, swung and jumped her best, beaming all the while. I was intrigued.
She wouldn't give her name. Seems she is in a TV weight loss program and under anonymity sanctions. I talked to her father, who cleverly declined to give his name but who was clearly proud of his daughter from Santa Monica. He said she was determined to get in shape and committed not just to losing weight on the show but also to mastering the WOD (Workout of the Day) regimes of CrossFit. "She's always been a competitor," he said, "all her life." He let slip Saturday was the day after her 36th birthday.
As with all of the competitors I saw Saturday, she was a winner. This is not easy stuff, and their blood, sweat and tears were clearly for a good cause.
CrossFit was created by gymnast Greg Glassman in 2000 to produce the fittest people on earth. Followers eat what supports their herculean exercise routine, but not fat. Its major feature is variety: Routine goes the mantra, is the enemy. Workout of the Day routines are unique, include rest days and can be done with minimal equipment. Glassman combines rope climbing and weight training gymnastics with variations on running and circuit training. Swinging the kettleball can be done with any heavy object firmly attached to a rope. Substitutions are welcome, and outlined on the official website (CrossFit.com) which furnishes the WOD. You do what you can, and if you don't have the equipment, space or training, you substitute. What is required is that you do your utmost daily for short, highly-intense workouts. There are now 4,500 CrossFit gyms from Afghanistan to Anchorage. The first CrossFit games were held in 2007 and their popularity continues to grow.