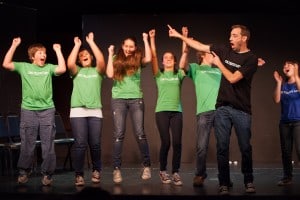 Culver City Middle School and Panther Partners will present an exciting weekend of Comedy Improvisation shows.
From the team that produced Darn Yankees! and Joseph and The Amazing Technicolor Dreamcoat, Comedy Improv! is comprised of  middle school teams doing fully improvised skits from audience suggestions.
Professional teachers and improvisers Jennifer Flack and Eric Price will be running the teams of students as they play their way through "Whose Line is it Anyway"-style unrehearsed comedy. "The students have learned so much this year.  Their skills and talents are sure to wow the audience.  You can't help but have a great time with them."  says Flack.
Each show will be unique and promises to be full of fun, laughter, and family-friendly entertainment.
Comedy Improv! will be performing shows at 12:30 pm, 3:30 p.m. and 7 p.m. on Saturday, May 19 and at 12:30pm, 3:30 p.m., 6:30 p.m. on Sunday, May 20.  Shows will be held at Willows Community School Theatre, 8520 Warner Drive in Culver City.
Tickets will be available for purchase at the door, but to guarantee seats, be sure to reserve online. Tickets are $5 for one show, $7 for a day pass that provides admission to three shows on either Saturday or Sunday, and $10 for a weekend pass that provides admission to all six shows.
To check out a video of the team in action,  or to purchase tickets on-line,  please visit www.ccmsmusicaltheatre.com.
With more than 48 cast members, the CCMS Comedy Improv! Troupe promises a great time.