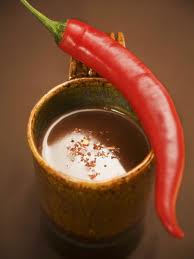 "Toto, we're not in Hershey, Pennsylvania, anymore" was my first thought when I tasted a sample of Chocovivo chocolate. A relatively new addition to the Tuesday Culver City Farmers Market, Chocovivo chocolate is stone-ground in the same fashion as the Mayans and Aztecs did over 2000 years ago. Following the view that less is more, you'll find no extra cacao butter, soy lecithin, or milk powder in this artisinal product.
All Chocovivo chocolate is dark chocolate, a blend of pesticide-free cacao nibs and – generally — unrefined cane sugar. A variety of strengths are available, ranging from 55% up to 85% cacao. You can also buy 100% cacao bars or ground chocolate, which contain no sugar.
In addition to wonderful dark chocolate in "rustic bar" or ground form, you can also buy flavored cacao. I nibbled on, and was very tempted by, the ShangriLa blend, which includes black sesame seeds and goji, but was ultimately swayed by the intensity of the whole spices (stick cinnamon, almonds, and a blend of chilies) in the Mayan Tradition blend. You can always count on finding these and other popular offerings. But keep an eye open for inventive and creative seasonal offerings such as Orange and Cloves and Brown Sugar Mayan.
You'll find the Chocovivo stand on the east side of Main Street about three-fifths of the way down from Venice Boulevard.
The "rustic bars" are a wonderful accompaniment to cheese plates. I can just picture an artisinal chocolate tasting, paired with some wonderful fruit and cheese from the Tuesday market.
Last week, I wrote about an informal bell-pepper tasting I had with friends. The market's bell peppers are still at the peak of the season. Here are four recipes from the Americas which use bell peppers to enhance and blend with other fresh ingredients.
Starting with an easy Southwestern breakfast scramble, we head south for a Peruvian scallop ceviche with a touch of Alta California, then east to the northeast coast of Brazil for an Afro-Brazilian fish stew. We return to the states for a home-style tomato-pepper salad.
Southwest Breakfast Scramble
(serves 4)
8 eggs
2 tablespoons milk
1 medium red onion, chopped
1 medium green chili pepper, such as jalapeño, seeded and chopped
1 green bell pepper, seeded and sliced
oil or butter
salt and black pepper, to taste
Chop the onion and chili, and slice the bell pepper. If you want a very hot scramble, do not seed the chili pepper. Crack the eggs into a large mixing bowl, add the milk, and beat until well combined. Place a large frying pan over medium heat, add the butter, margarine, or cooking spray, and allow to melt. Add the onions, chili, and bell pepper, and sauté for 2-4 minutes. Add the eggs to the pan, and allow to cook for 30 seconds to 1 minute, until they just begin to set. Turn the heat up to high, and begin scrambling the eggs by scraping the bottom of the pan with a spatula and folding the cooked egg into the egg mixture. When the eggs are still moist, but mostly cooked, remove from the fire and plate. They will continue to cook, due to their retained heat, after being removed from the pan. Serve while still hot.
Scallop Ceviche with Roasted Red Peppers and Avocado
(serves six as appetizer and four as main dish)
1 pound bay scallops
1/2 cup lemon juice (about 3-4 lemons)
4 red bell peppers, roasted, peeled, and seeded
2 tablespoons (30 mL) balsamic vinegar
2 tablespoons (30 mL) extra-virgin olive oil
1/2 teaspoon (2.5 mL) cayenne pepper, ground
Salt, to taste
1 avocado, peeled and sliced
Ceviche, fresh raw seafood marinaded in lemon or lime juice until it is "cooked," originated in Peru. This recipe for scallop ceviche blends the best of northern and southern America by adding peeled and sliced avocados to the finished dish. The addition of roasted red bell peppers and use of balsamic vinegar (originating in Italy) and extra-virgin olive oil, which was first used in mediterranean cooking, brings this traditional method of "cooking" seafood squarely into the 21st century, where easy availability of formerly local ingredients has led to fusion adaptations of traditional cuisines.
Make sure that you purchase your scallops from a reliable source, and make the ceviche the same day you buy the scallops. Scallop ceviche is a wonderful appetizer, but you don't want to tempt fate by using day-old seafood or scallops which have not been carefully handled every step of the way from the water to the table.
In a non-reactive bowl, combine the scallops and lemon juice, add more juice as needed to cover the scallops. Refrigerate, covered, and stir often for 2 hours, until the scallops become opaque.
For the sauce, add the bell peppers, vinegar, oil, cayenne, and salt into a food processor or blender, and purée. (If you need directions for roasting red peppers, you can find them in last week's column.)
To serve, spoon the sauce onto individual plates, drain the scallops and place on the sauce. Garnish with slices of avocado.
Moqueca de Peixe (Bahian Fish Stew, from the Brazilian state of Bahia)
(serves 5)
2 – 2 _ lb. fresh firm white fish filets, cut into 1 _ – 2 inch wide stripes/slices
juice of two limes or one lemon
_ – 1 t. cayenne pepper
1 t. salt
_ t. ground pepper
2 medium onions, cut into circular slices
1 red bell pepper, seeded and cored, cut into circular slices
1 green bell pepper, seeded and cored, cut into circular slices
2 cloves garlic, finely minced
4 ripe tomatoes, chopped, optionally skinned
4 cilantro stems with leaves, finely chopped
12 tablespoons Azeite de dendê (Brazilian palm oil)
1 cup of coconut milk
(optional) 1 sliced jalapeno pepper
Mix the lime or lemon juice, salt and pepper in a large non-reactive bowl or pot. Add sliced fish filets. Mix gently to cover. Place in refrigerator to marinate for at least one hour. Meanwhile, prepare vegetables. Remove fish from refrigerator. Place a layer of fish in a medium or large pot. Cast iron or a dutch oven would be a good substitute for the traditional Brazilian cooking vessel for this dish. Add a layer of onion slices, then a layer of pepper slices, a layer of tomato slices, some cilantro and a dash of the garlic and cayenne pepper. Repeat until all the ingredients are layered. The dish is better with multiple thin layers of ingredients than one or two thick layers. Pour the azeite de dende and coconut milk over everything. Boil for 20 minutes. From time to time, carefully ladle the liquid from the bottom of the pot and pour it over the top layers so they do not dry out during the cooking process.
Serve with boiled white rice and fried plantains.
You can find azeite de dende at a Latin American grocery, such as Supermercado de Brasil at 10826 Venice Blvd. #105, Culver City, CA 90232 (phone 310-837-4291). The unique taste of this ingredient is essential to the success of this dish, please do make an effort to find some before making this dish. That said, several American versions of moqueca do use less azeite, substituting clam juice for a portion of the palm oil. However, this substitution detracts from the wonderful Afro-Brazilian character of the stew, so think twice before skimping on the Brazilian palm oil.
Tomato and Green Pepper Dinner Salad
(serves 4-6)
3 medium tomatoes, seeded and chopped
• 1 medium green pepper, chopped
1 celery rib, thinly sliced
1/2 cup chopped red onion
2 tablespoons cider vinegar
1 tablespoon sugar
1/2 teaspoon salt
1/8 teaspoon pepper
This easy make-ahead recipe has been passed down from generation to generation in America's heartland. The chilled salad is perfect for warm summer evenings and, when doubled, a great potluck contribution.
In a large bowl, combine the tomatoes, green pepper, celery and onion. In a small bowl, combine the vinegar, sugar, salt and pepper. Stir into tomato mixture. Cover and refrigerate for at least 2 hours, stirring several times. Serve with a slotted spoon.
Recipes adopted from Wikipedia's recipe commons or internet resources.
The Tuesday Culver City Farmers Market is held from 2 pm to 7 pm on Main Street between Venice and Culver Boulevards.
Katie Malich has never figured out why Peter Piper was picking a peck of pickled peppers, because pickling principles provide for pepper-picking prior to pepper-pickling in perpetuity.