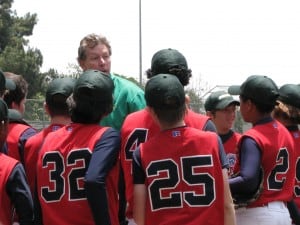 Culver City Little League's All Star team completed it's season on Friday, losing a four inning exhibition game to Santiago Little League of Orange County, but unlike most  teams final effort, they couldn't be happier about their last Little League experience. Despite coming out on the short end of a 2-1 score, the game really was the under card in a day filled with moments that the players and parents will remember long after their baseball playing days are over.
Culver City participated in Subway's National Little League Baseball Appreciation Game in Beverly Hills in partnership with Little League Baseball and Softball with an exhibition game featuring teams from Los Angeles and Orange counties.
"We're looking forward to this summer-long event and its culmination in August at the Little League Baseball World Series," said Stephen D. Keener, President and Chief Executive Officer of Little League International who attended the exhibition game and opening ceremonies. "Today's game is an exciting event and I am glad that Culver City agreed to be a part of it."
Mr. Keener was joined by Los Angeles Dodger icon, former Cy Young Award winner and World Series Most Valuable Player, Orel Hershiser, nine time All Star, former Most Valuable Player, Rookie of the Year Award winner and USC star Fred Lynn, who served as coaches for the two teams. Also on hand were Tim Leary, Santa Monica High and UCLA standout who played thirteen years in Major League Baseball, including winning 17 games on the 1988 Dodger World Series Championship team; the ever popular Jared Fogle, Subway's national spokesman and other Little League International executives. All of the celebrities were a  hit with the kids, signing every autograph and posing for pictures.
"It's about creating lasting memories for the kids" explained George Aceves, President of Culver City Little League, when asked why he lobbied to get Culver City included in the game for a second straight year. "Our board really has stressed it wants as many kids as possible to be rewarded and named to our All Star teams. I really appreciated how unique the  opportunity was, and wanted our team to have this special moment. I remember how much the kids and coaches enjoyed the experience last year and knew we had a great group of kids that would represent the league well and really embrace the whole day."
Lynn captured the total mood of the day when he commented, "If I don't see smiles, we haven't done our job."
The job was well done as there were smiles throughout the whole opening ceremony led by District Administrator, Marty Hoy. Hershiser was chosen to coach Culver City and took the position very seriously. He immediately took charge of the team, positioning players, giving fielding tips and when he saw kids tentative at the plate, he reminded them that their swing mechanics were sound and they just needed a more aggressive approach. When one player joked that pitchers were notoriously bad hitters, he smiled and related that one year he was hitting .400 for most of the season, and ended up hitting .356. With that comment, all seeds of doubt were removed and the team became his, hanging on each word he spoke. The kids responded immediately, hitting the ball hard around the diamond. Only two spectacular plays by Santiago's second baseman prevented Culver from breaking the game open as they were unable to capitalize on having men in scoring position as every inning ended. After two scoreless innings pitched by Garrett Doff and Eli Bowie, Santiago touched up the home team with three hits and aided by an untimely error put two runs on the board in the top of the third inning. This was the same pattern that had cost the Culver victories in its previous two tournament games. Hershiser, noting a drop in energy level called the team to the side and noted that again the general approach was sound, but a simple adjustment in their footwork would lead to better fielding results.
As if on cue, the team's shortstop Jordan Caines responded with back to back Jeteresque plays that brought the crowd to their feet and helped Hunter Hutchinson pitch yet another scoreless inning. Down 2-0, Hershiser was joined on the bench by his former teammate on the Dodger championship team, Tim Leary, who has served as a private instructor to several of Culver City's Little League's kids.
"Culver City Little League has some very talented kids. " said Leary. "I've enjoyed working with them, trying to help them improve their games."
Casey Smith tried to bring the locals back, smacking a ground rule double and scoring on a well placed ground ball by Benjamin Coombs-Perez. Colin Hefner kept the rally alive with a shot to the right side before Santiago recorded the final out. The game was filmed by ABC/ESPN and portions will be seen throughout the Little League World Series telecast.
After the final out, Culver's day was far from over. The team enjoyed a healthy lunch from Subway, and was ready for more baseball. Hershiser finished his contractual obligations and thanked all the sponsors and then got back to what he enjoyed most sharing his knowledge with kids. Long after all the sponsors had taken advantage of their photo opportunities and the camera crews were gone, Hershiser gathered the remaining kids on the mound and individually broke the down the pitching mechanics for each player and several of their siblings. As parents tried to videotape and snap pictures of the moment, Hershiser and the kids were hard at work, discussing the advantages of different leg kick rotations, step back angles and the effects of mid pitch head positioning on ball flight.
"I consider myself a serious student of the game. I've read and watched video on pitching and hitting, but this was next level information based on many years of big league baseball experience," commented All Star Manager Richard Caines. "Having two pretty good baseball players in the family, and having coached Little League for eight years, we have some very lively discussions about playing the game. I've seen mixed results as kids have used private baseball instructors. Some of the things I heard and saw today were things I've never heard before and I'm sure no one else has told these kids; unique information that these kids can build on, and will help them become better baseball players."
Halfway into his promise of a brief 15 minute session that had already gone half an hour Hershiser told the parents, "I've given out $30,000 of information." One of the parents yelled back only half jokingly, "and we are available tomorrow, too."
"It's vintage Orel" enthused Monique Brandon, former Director of Community Affairs for the Los Angeles Dodgers and Founder of the Dodger Dream Foundation, who worked closely with Hershiser while he was with the Dodgers. "Orel was always very passionate about the organizations that he chose to support, so I am not surprised he did far more than anyone reasonably expected. I finally told the coaches you need to let him go, as I knew he needed to get to his next commitment. Despite that, Orel didn't leave until he had worked with every kid individually including a few little brothers! It's why he's so popular and such a great spokesman for Little League Baseball."
After thanking every parent and player, Hershiser was rushed off, anxious to get to his next appearance.  He will be the lead analyst for the Little League World Series and recently handled the same duties for the College World Series. But for today and forever on, to one group of Culver City All Stars, he will forever be, Coach Orel.
Eli Bowie, one of the participants and a man of few words summed up the day, "Today was pretty fun."