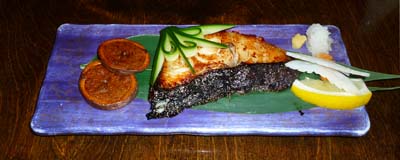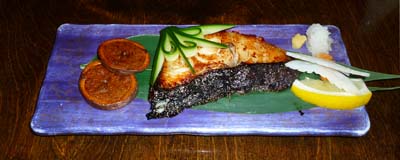 If food were a fashion show, than the offerings at Kaizuka Japanese Restaurant would be runway material. This family-run Japanese find made its mark on Culver Blvd. in 2006, before the onslaught of other Culver City restaurants, and it's understated elegance shouldn't be over-looked.
Owned and operated by Yoshiyasu "Rocky" Iwamoto, who also owns several other establishments in Southern California, he and his family pull it all together in making it happen at this groovy spot. Daughter Naomi adds personality with her tremendous culinary expertise as she bustles about with her contemporary pull on the dining scene. Mom takes the helm at the front, while dad works his magic behind the scenes.
To start things right, we began with their sake sampler, swirling the sweet elixirs to prepare the palate for what was to come: a sensuous excursion into the sublime.
The sake trio included the banana aromas of the Senjyu, the dry and spicy Hakkaisan, and the White Label Shirakabegura, infusing the clean and smooth. Ah, let life begin.
Food is pristine, innovative, and almost too pretty to consume. Look at presentation of each dish, executed with the true craft of an artesian.
We opted for the Kaizuka Omakase, the chef's selection of delicacies, and we couldn't have been happier. A rainbow of flavor, texture and color followed, as the cool jazz tunes tempered the evening and meandered through the restaurant.
There are too many items to cover in this column, but here are my favorites:
Kaizuka Asparagus Beef-A house specialty, the asparagus is wrapped in a slowly cooked rib eye beef, and served with a special wine sauce
Kaizuka Roll-A nice twist on the ever-popular California Roll, with albacore, bell peppers, onions, and a ginger yuzu sauce
Black Cod-Sake-marinated black cod, flanked with crispy purple potatoes
Cranberry Salmon-Salmon is layered with a lively cranberry sauce, and then layered over lotus root
If you haven't visited this place in awhile, it's time to plan your adventure. Sit back, enjoy the ride and let Rocky work his magic.
Kaizuka Japanese Restaurant
9729 Culver Blvd.
Culver City, CA 90232
310- 253-5038
http://www.kaizukala.com/