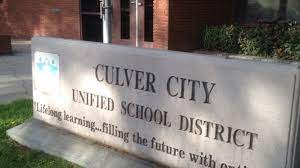 The Culver City Unified School District has created a special page on its website so the public can follow along and be involved in the District's nationwide search for a new Superintendent.
At a special meeting on August 24, 2023, the Board of Education discussed the search for a permanent superintendent. The board named the following search firms to be invited to submit proposals. The firms include: The Cosca Group, Education Leadership Services, Hazard Young Attea Associates, Leadership Associates, and McPherson & Jacobsen LLC. An ad hoc board subcommittee was appointed to initiate the process. A special meeting is scheduled for September 14, 2023 at 6:30pm for search firm presentations.
The timeline presented by the distric is as follows – 
August 19, 2023: CCUSD Names Interim Dr. Steven Keller as Interim Superintendent.
August 24, 2023: Board of Education identifies firms to request search proposals.
September 14, 2023: Special Meeting of the Board of Education to review presentations from search firms.
The district has also included a link on the site for parents and community members to offer their thoughts on the search.