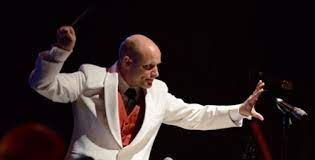 The Culver City Symphony Orchestra's 2022-23 season spotlights the three finalists seeking to be the new Music Director-Conductor. They will end the season with guest conductor Steven Allen Fox in a program that combines exciting recent works by local composers with the Symphony No. 2 of Jean Sibelius.
The program features Culver City High School alumnus Alex Park in Elmer Bernstein's Concerto for Guitar & Orchestra, soprano Maegan McConnell in "Courage" by Christopher Tin, and Peter Boyer's Rolling River (Sketches on "Shenandoah.") Admission to this concert is free – no tickets required.
Saturday June 24, 2023 at 7:30 pm, Robert Frost Auditorium. 
For more information, visit our website at https://www.culvercitysymphony.org/