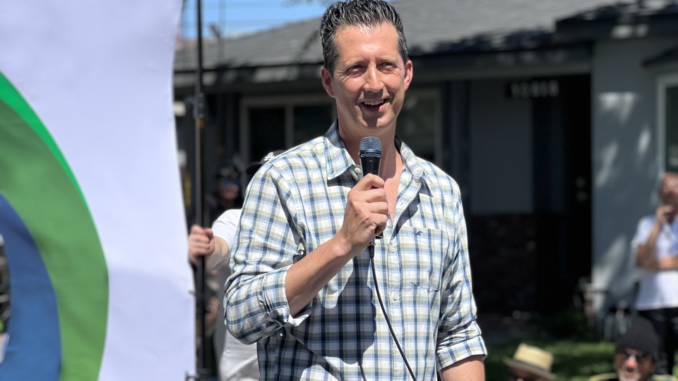 On Saturday, June 18, Dan O'Brien and Beverly O'Brien hosted Dan's official city council campaign kickoff event as a classic Culver City block party. Guests were treated to live music by CCHS graduate Eliza Spear, while young children enjoyed having their faces painted by neighborhood parents, and tumbled in the ubiquitous block party bounce house to burn off the sweet treats that were available to eat. No RSVPs were required, and anyone was welcome to attend.
Over 200 people stopped by the 2-hour celebration, which culminated with supportive speeches by Boy Scout leader and friend Tracy Miller, city council member Göran Eriksson and Vice-Mayor Albert Vera, and Beverly O'Brien, Dan's wife and partner of 24
years. Dan wrapped up the event, addressing those gathered with a message centered on community.
In speaking to the community members gathered, Dan stated, "I'm going to listen to your perspective and share my perspective with the hope that we can meet at a place of understanding. Culver City has changed significantly over a short period of time. And
while change is a part of growth, if we don't work together with compassion and empathy, change can come crashing down upon us. With my history of productively leading several Culver City organizations, building connections and getting things done, I believe I am the most qualified candidate to collaboratively lead our community into the future with you."
As a resident of almost 22 years, Dan has been civically active throughout this time. He served on the first Committee on Homelessness beginning in 2004. Shortly after, Dan formed the non-profit Culver City Great Parks Association, helping secure grants to renovate the playground at Veteran's Park, and actively participated in the city's parks master plan. Dan also served as a trustee on the Culver City Education Foundation (CCEF), initiating the organization's first sustained fundraising campaign. After his time with CCEF, Dan became scoutmaster of Boy Scout Troop 108, increasing its membership from 15 scouts to over 70 in just two years, and mentoring 21 Eagle Scouts. And during the Covid-19 pandemic, Dan was one of a handful of community
leaders who established FeedCulver, which has provided over 100,000 hot meals through Grace Diner to those who are food insecure.
Because of his excellence in leadership in volunteerism, Dan has earned the Culver City Unified School District Parent-Teacher Association's Golden Oak Honorary Service Award – the highest honor bestowed by the PTA. Dan has also earned the Boy Scout's Silver Beaver Award – the highest honor bestowed by the BSA at the council-level. To date, 13 former Culver City mayors, 7 current and former school board members, and current Culver City Council Members Göran Eriksson and Vice-Mayor Albert Vera, endorse Dan in his campaign for a seat on Culver City Council.
To learn more about Dan and his goals for Culver City, please visit https://www.danobrien4culvercity.com
Obrien4culvercity