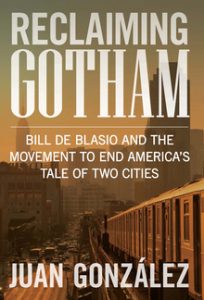 Celebrate the release of Juan González's latest book with special event at The Actors' Gang in Culver City.
In Reclaiming Gotham: Bill de Blasio and the Movement to End America's Tale of Two Cities, Juan González explains how cities are becoming the center of progressive political change, and introduces a new generation of municipal leaders spurring this movement for grassroots reform.
After introductory remarks by Actors' Gang Founding Artistic Director, actor, activist, screenwriter, director, producer and musician Tim Robbins, as well as by Culver City Vice Mayor Thomas Aujero Small, Juan González will be joined in conversation by journalist and NPR arts correspondent Mandalit del Barco, followed by a Q&A and book signing.
The event is free and open to the public, but reservations are required. To reserve a seat, email your name with your ticket request to [email protected] . Reserved seats that are not claimed 15 minutes before show time will be released to the wait list.