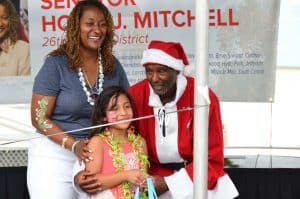 Thanks to strong local support, Sen. Holly J. Mitchell on Saturday will present laptops and scooters to 150 at-risk children during a free carnival that includes food, games, rides, medical screenings, athletic challenges and enough outdoor fun to inspire Santa to buy sunscreen.
Dubbed "Christmas in July," Mitchell, D-Los Angeles, is hosting the event to brighten the lives of at-risk children by providing them donated gifts, free dental and vision screenings, and 'fun zones' where children and their families can learn about education, the environment and literacy by rock climbing, sumo wrestling, playing in an inflated 'bounce house' and visiting onsite health, science and literacy labs to help raise awareness on subjects like healthy eating and financial literacy.
Registration opens at 9 a.m. Saturday; games and events run from 10 a.m. to 2 p.m. Presentation of laptops and scooters begins at 1 p.m. on the McCarthy Quad on the USC campus, 3551 Trousdale Parkway, Los Angeles, 90089.