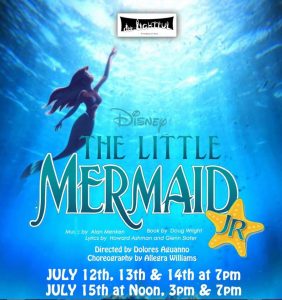 Looking for some summertime fun and family entertainment? Come under the sea with us  in  the dee-Lightful Production of 
"Disney's The Little Mermaid, jr" 
at the Veterans' Memorial Auditorium, running 
July 12th- 15th
. Three lovely actresses playing the mermaid Ariel, ages 9, 11, and 16, head up the three excellent casts of local kids singing, dancing and and floating through one of Disney's most popular musicals. Directed by Dolores Aguanno and choreographed by Allegra Williams, this show has all your favorite songs from the Disney animated feature, presented with a big splash by some of the most talented children in town!
Tickets are $10 at the door, and there will be 6 performances with rotating casts; See if you can see all three! Under the sea is the place to be!
July 12, 13 and 14 at 
7 pm
July 15 at noon
, 
3 pm and 7 pm
Veteran's Memorial Auditorium
4117 Overland Blvd.
Culver City 90230