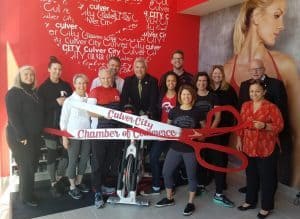 CycleBar, Culver City's newest fitness phenomenon, located in Culver Crossroads at 4130 Sepulveda Blvd, Suite C, Culver City, CA 90230, held its Grand Opening Ribbon cutting last week.  This location is the first CycleBar in the Los Angeles area.
"CycleBar Culver City is extremely excited to move into the neighborhood," said owner Steph Sklar-Mulcahy. "We are offering free rides during our grand opening and great specials on packages until April 2nd. Come check us out and see what all of the buzz is about!"
For further information about CycleBar, visit http://culvercity.cyclebar.com, or email the studio at [email protected]
Pictured: Culver City Councilmember Thomas Small spinning his way through the grand opening ribbon with CycleBar owner Steph Sklar-Mulcahy standing by. The ribbon is held by Chamber Chair-Elect Janice Beighey of Tower Insurance and Elizabeth Garcia of Culver City Economic Development.