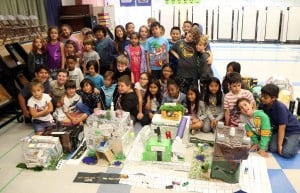 As Culver City's 100th birthday approaches, the 3rd grade students at Linwood Howe were both studying the city's history, as well as looking ahead another 100 years. As part of their Culver City history unit, the students toured multiple Culver City landmarks including St. Augustine's Church, City Hall, Sony Studios, Culver Studios, the Culver Hotel, and Bill Botts Park. They also imagined what Culver City will look like 100 years from now, and brought their visions to life in the form of model cities. The students designed and built urban centers that include city halls, schools, hospitals, parks, business and retail centers, and communal living areas.
Angela Dyborn, a former Lin Howe parent who continues to volunteer at the school, facilitated visioning and planning sessions with the students, and managed the construction of the models with 3rd grade teachers Lilian Glassman, Lisa Schnauss and Manny Feeney. "There were some rather phenomenal teaching moments on so many levels," said Ms. Dyborn. "For example, the 21st century competencies – creativity, critical thinking, collaboration and communication – were deeply embedded into this project. These type of skills are widely touted as critical for getting jobs in the increasingly pervasive and vital Creative Economy."
The students worked in teams, and created the cities using a variety of craft items, plus recyclables such as cereal boxes, toilet paper rolls, and plastic food containers, all of which were donated by their families, or curated from T4T.org (Trash for Teachers).
"These students are very aware of environmental issues, and know a lot about environmental stewardship," added Ms. Dyborn. "I'm sure this is due in great part to CCUSD's Green5 curriculum. While thinking about the future 100 years from now, they looked at this challenge with a green lens."
Some environmental features include green rooftops with plants and trees, a self-contained transparent pod of schools that re-circulates clean air, and public transit that travels through the sky from building to building so as not to take up precious pedestrian space on the ground.
The students eagerly displayed their model cities at Lin Howe one week before the school year ended. One student commented, "At first I thought this project was impossible, but with a lot of hard work, now, I am so proud!"
With the Centennial approaching, the 3rd grade teachers and students realized it might be particularly meaningful for these future Culver City cities to live on, at least for a little while. Thanks to Assistant to the City Manager Shelly Wolfberg, the department of Parks & Rec, and Senior Program Specialist Debbie Cahill (also a former Lin Howe parent), the models are now on display at the Senior Center, and open for public viewing for the next couple of weeks.
The Senior Center is located on the northwest corner of Culver and Overland, at 4095 Overland Ave, Culver City, CA 90232. It is open from 9 am – 5 pm weekdays, and 12 – 4 pm weekends.
(Caution: Parking is very limited in the Senior Center parking lot, and requires a permit. It's best to park across the street at Vet's Park, which is free.)
Joanna Brody