Spoiler alert: the ukulele is not native to Hawaii, but after Portuguese immigrant Joao Fernandez brought his machete with him in 1879, it became hard to imagine a hula without an oo-ku-lay-lay playing the tune.
The mini guitar is melodious and easy to play, which meant it has risen and fallen in popularity several times, the most recent in 2013, when the National Association of Music Merchants reported a 54% leap in ukulele sales.
Nowhere is this more apparent than Culver City's Senior Center, which was quick to jump on the bandwagon.
"We started in 2013," said leader Cali Rose. 9pictured right)  "We are up to 80 members, and still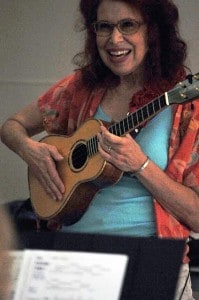 growing."
Growing so fast, in fact, that there are two classes, one for beginners and another for intermediates, both in the Veteran's Hall once they outgrew the Senior Center. Their most recent performance was at the Los Angeles International Ukulele Festival in Torrance last weekend, where they opened the event.
Next week they will play at the Rotary Plaza retirement center. They have made recordings; the intermediates were busy working on the tricky syncopation of Proud Mary last Thursday.
"No reason we can't strum and finger pick in the same song," Rose said cheerfully to the sea of students cradling tiny guitars, heads bowed over sheet music. "But no music!" she said to quiet gasps. "It's tricky and you need to play, you can't be looking at your books."
Most of her students are new to music, many cannot read it and all are learning to play by ear because that's her method.
They play the standard soprano ukulele, or one of its sisters: baritone, tenor or concert instruments. There are two bass ukes in the class, both manned by men, and two hybrids known by several names, including the banjolele.
Weng Dows retired from architecture last year at 86, and needed something to do. She'd unearthed her mother's hybrid banjo ukulele and joined the fun three years ago. "Retirement just gave me more time to practice," she laughed. "My banjo ukulele is made by Gibson and older than I am. It was my mother's." She toted it around for decades, and when she heard about the CC Strummers, she thought, "Oh, that's what I'm supposed to do!"
The instrument that became synonymous with Hawaii was Portugal's braguinha. Hawaiians renamed it the jumping flea, or ukulele, tweaked it a little and made it their own. From Elvis in Blue Hawaii to Bing Crosby and Betty Grable, it was popular until it was eclipsed in 1964 by a band of four mopheads from Liverpool on the Ed Sullivan Show. Two Beatles, Paul McCartney and George Harrison, became fans. Tony Blair strums at Labor Party conventions and Warren Buffett plays one.
It is easy to play and challenging to master. For an idea of truly fine ukulele playing, here's a link that will blow your socks off.
www.pbs.org/program/jake-shimabukuro/
Check out the CC Strummers when they strut their holiday best stuff at their public concert December 22 from 1 to 2 p.m. at the Senior Center. Maybe they'll have Proud Mary ready by then, but if not, they'll have a bagful of sing-along tunes to warm your cockles.