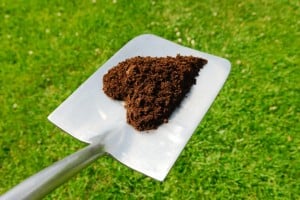 We're doing it again!
Culver City Public Works is giving away free compost AND mulch this Saturday during the Smart Gardening Workshop.come to the  Veterans Memorial Park 4117 Overland Blvd., Culver City on  Saturday July 25, 2015 from 9:00 a.m.- 4:00 p.m. or until it's all gone.
What should I bring? This is a self-haul event so bring a shovel. Residents are responsible for shoveling and bagging their own compost and mulch in garbage bags, yard waste bags , reusable containers, pick-up bed or trailer.
How do I use this compost in my garden? Compost is ready to go, but recommended to be mixed together with topsoil or another gardening fill. For best growing results, a 60/40 split (60% topsoil and 40% compost) is recommended.
Where does this free compost come from? American Organics, where every day is Earth Day! They are proud to be a positive part of the recycling loop by receiving local organic material and creating beneficial soil amendments to help grow healthy foods thru Municipal Food Waste Programs. Family-owned and operated.
Compost material is OMRI Listed® (Organic Materials Review Institute) and licensed by the California Department of Food and Agriculture (CDFA); it is approved to be used in agricultural operations that are certified organic under the USDA National Organic Program
How do I use this mulch in my garden?
Bark mulches are best used around trees, shrubs and in garden beds where you won't be doing a lot of digging, like front walkways.
Where does this free mulch come from?
West Coast Arborists, Inc. (WCA, Inc.) was established in 1972. Services include but are not limited to: tree pruning, tree removals, tree planting, tree evaluations, and tree inventories. All work is performed by specially trained personnel. Staff of ISA Certified Arborists ensure industry standards are always in compliance.
For more information, please call (310) 253-6411.