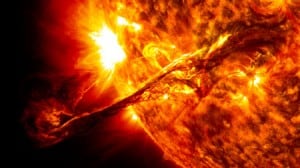 The Sun undergoes a type of seasonal variability with its activity waxing and waning over the course of nearly two years, according to a new study by a team of researchers led by the National Center for Atmospheric Research (NCAR). This behavior affects the peaks and valleys in the approximately 11-year solar cycle, sometimes amplifying and sometimes weakening the solar storms that can buffet Earth's atmosphere.
The quasi-annual variations appear to be driven by changes in the bands of strong magnetic fields in each solar hemisphere. These bands also help shape the approximately 11-year solar cycle that is part of a longer cycle that lasts about 22 years.
"What we're looking at here is a massive driver of solar storms," said Scott McIntosh, lead author of the new study and director of NCAR's High Altitude Observatory. "By better understanding how these activity bands form in the Sun and cause seasonal instabilities, there's the potential to greatly improve forecasts of space weather events."
The overlapping bands are fueled by the rotation of the Sun's deep interior, according to observations by the research team. As the bands move within the Sun's northern and southern hemispheres, activity rises to a peak over a period of about 11 months and then begins to wane.
The quasi-annual variations can be likened to regions on Earth that have two seasons, such as a rainy season and a dry season, McIntosh said.
The study, published this week in Nature Communications, can help lead to better predictions of massive geomagnetic storms in Earth's outer atmosphere that sometimes disrupt satellite operations, communications, power grids, and other technologies.
*******
DAWN MISSION IN EXCELLENT SHAPE ONE MONTH AFTER CERES ARRIVAL. Since its capture
by the gravity of dwarf planet Ceres on March 6, NASA's Dawn spacecraft has performed flawlessly, continuing to thrust with its ion engine as planned. The thrust, combined with Ceres' gravity, is gradually guiding the spacecraft into a circular orbit around the dwarf planet. All of the spacecraft's systems and instruments are in excellent health.
Dawn has been following its planned trajectory (http://dawnblog.jpl.nasa.gov) on the dark side of Ceres—the side facing away from the Sun—since early March. After it entered orbit, the spacecraft's momentum carried it to a higher altitude, reaching a maximum of 46,800 miles on March 18. Today, Dawn is about 26,000 miles above Ceres, descending toward the first planned science orbit, which will be 8,400 miles above the surface.
By early May, images will improve our view of the entire surface, including the mysterious bright spots that have captured the imaginations of scientists and space enthusiasts alike. What these reflections of sunlight represent is still unknown, but closer views should help determine their nature. The regions containing the bright spots will likely not be in view for the April 10 images; it is not yet certain whether they will be in view for the April 14 set.
On May 9, Dawn will complete its first Ceres science phase and begin to spiral down to a lower orbit to observe Ceres from a closer vantage point.
Dawn previously explored the giant asteroid Vesta for 14 months, from 2011 to 2012, capturing detailed images and data about that body.