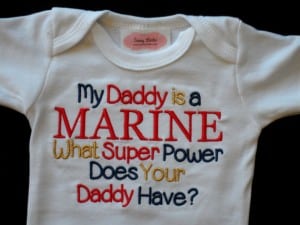 On October 18, 2014, the families of Camp Pendleton were treated with baby gifts galore at a shower hosted by Rotarians from four local clubs in Rotary District 5280 – the baby shower was held at the Roxbury Park Community Center in Beverly Hills, CA.
Two hours before the event, about 20 Rotarians were seen carrying in dozens of gift baskets, baby blankets, toys, car carriers, strollers, and diapers—everything new moms need. Balloons, confetti, colorful table cloths were there to greet 10 pregnant moms when they arrived from Camp Pendleton. Lunch was served, hot dogs and homemade macaroni salad
"It's just amazing all the support you are providing us," said Sergeant Michele Hunt, 27, a Marine in her own right, who met her husband Machine Gunner Sergeant Joseph Hunt in the Corps; she is expecting a boy next March and it's a close call if Joseph will be home in time.
As in most baby showers, games were played. The "Diaper Derby" was hilarious; pregnant mom's trying their hands at diapering each other with unfurled roles of bathroom tissue. Michele and her pregnant friend, Jenna Jordan, 26, gave the game their all, but did not win. Still, both moms were excited and grateful for the attention and kindness shown them that day. Jenna explained that her husband, Jerry, is on a ship deployed with the Marine Expeditions Unit, going to different countries to provide military training. Her baby girl is due in December, and her husband will return next July ready to meet his daughter.
All in all, it was a fun day for all, and several Culver City Rotary Club members were there to see the fruits of their labor. Now to look forward to someone else's labor day …
For community members interested in Culver City Rotary Club membership and jumping on the service bandwagon, both locally and internationally, contact President Joel Forman at 310-559-7250, or member Wendy Taylor at 310-876-1411. People can also visit www.culvercityrotary.org. Weekly Rotary meetings are held on Wednesdays at noon at the Culver Hotel. All visitors are always welcome!