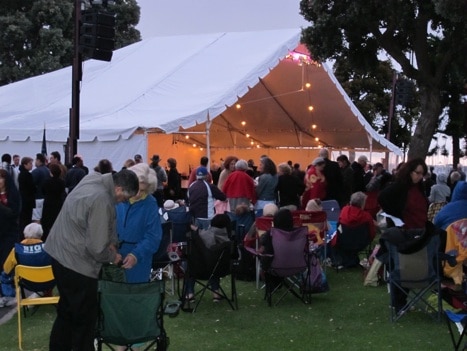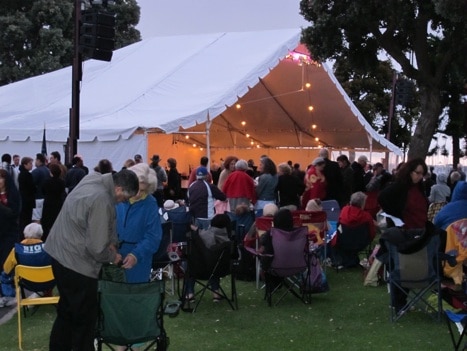 Music has always been part of the movies from the silent films to today. A movie score can raise a film to greater heights.
Movie magic has longed been talked about, and these Classical Waterside Concerts at Burton Chace Park have their own magic. Combine the two, and it is a very promising evening. Frank Fetta conducts the Marina del Rey Summer Symphony.
The 2014 Summer Season is an important celebration to us since this is our 15th Year of playing at beautiful Burton Chace Park, and the 50th Year Anniversary of Marina del Rey. Some of us remember the building of the Marina, and to be performing in or listening to an orchestra in a park in the Marina is beyond our dreams.
The connection with film music and films made in Culver City in such illustrious studios as MGM, Sony Pictures, RKO, Thomas Ince Studios, Culver Studios, is very notable for the Marina del Rey Summer Symphony since the parent orchestra is the Culver City Symphony Orchestra. We thank the Department of Beaches and Harbors for their support in the summer. We will pull anchor and sail back to Culver City for our winter season and look forward to the 2014-15 Season, and then set course for a 2015 Summer Season back at Burton Chace Park.
Program:
The National Anthem
Harold Arlen: Suite: Over the Rainbow
Craig Safan: "Remo Williams Overture"-Remo Williams Overture, Composer's Notes.
James Horner: Suite from "Titanic" Take Her to Sea, Never An Absolution, Southampton,
Hard to Starboard, My Heart Will Go On
Richard Addinsell: "The Warsaw Concerto" from "Dangerous Moonlight," Yana Reznik-Piano
INTERMISSION
George Gershwin: "Rhapsody in Blue," from "The Great Gatsby," Yana Reznik-Piano
John Willilams: "Star Wars" Suite for Orchestra,
I. Main Title, II. Princess Leia's Theme, III. The Imperial March (Darth Vadar's Theme),
IV. Yoda's Theme, V. Throne Room & End Title
Yana Reznik performs Gerwhin's "Rhapsody in Blue" (Gatsby), and Richard Addinsell's "The Warsaw Concerto" from "Dangerous Moonlight."
Concert Celesta provided by Kasimoff-Blüthner Piano Co., Hollywood, CA kasimoffpianoslosangeles.com
All concerts are admission free. Make it a mini/micro staycation.
Bring a picnic, a jacket, a blanket to sit on. There will be food trucks at the park.
If you bring a chair, please make sure it has a low back to not obstruct the view of those behind you. Watch the boats in the Marina and the clouds roll by, feel the ocean air on your face, tune out the day and tune in to Classical Music along the water.