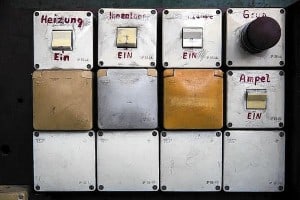 Guardhouses were an integral part of state surveillance in East Germany (GDR), stationed not only at borders but in places where they could monitor ordinary people going about their daily lives. Artist Christof Zwiener rescued one from demolition, and nine other artists worked to create their interpretations for 'adn pfoertnerhuas" "The guard, he or she, controlled the people coming in or out but on the other hand, the people going in also watched him," said Zwiener. "There are a lot of forgotten things in East Berlin still, but nobody cares about them anymore."
Berlin tourist attractions on the GDR theme include Checkpoint Charlie and the Stasi Museum and DDR Museum, both of which focus on the Stasi's sinister surveillance apparatus. This one will come to it's final destination at the Wende Museum in November of 2014.
Ten artists have showcased their work in the closet-sized booth, many focusing on surveillance which is a sensitive issue in Germany because of the way the Gestapo and Stasi spied on citizens in the Nazi and communist eras. Sven Johne, Thomas Rentmeister, Franka Hoernschmeyer, Wolfgang Ploeger, Alexander Mueller, Balder Burwitz, Susanne Kriemann, Uwe Lewitzky, INa Weber and Sonya Schoenberger all created 'guardhouses' with distinct personalites to comment on the former regime.
The project has coincided with revelations that the U.S. National Security Agency spied on citizens and institutions in Germany, including Chancellor Angela Merkel's mobile phone.
The exhibit by Berlin-based artist Sonya Schoenberger, which ends this month, consists of thousands of keys once used in Stasi police barracks, hanging from a vertical metal rod.
"Berlin is of course a vivid place for this, memories that are found in public spaces and that carry a lot of weight for people," said Schoenberger, adding that Zwiener had found a way to make such meaningful, shared memories "visible again".
The booth will travel 6,000 miles (9,600 km) by ship to go on show from Sept. 26 in four locations around Los Angeles including the corner of a busy intersection, before going to its permanent home at the Wende Museum for the 25th anniversary of German reunification in November.
"The guardhouse is about parking lots and media and LA is about two things: parking lots and media," said Justinian Jampol, founder of the museum dedicated to the "Wende" – German for the end of the Cold War after the Berlin Wall fell in 1989.
The museum in Culver City houses Cold War artifacts from Eastern Europe and the former Soviet Union and will move to a new location, in a former armory, on Nov. 8.
photo credit – Thomas Peter /text Emma Anderson/ Reuters