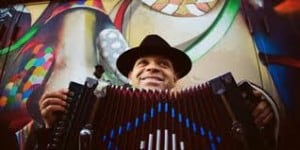 Summer breezes… an intimate courtyard… free parking… and great music. Escape to Culver City for the 2014 Culver City's Boulevard Music Summer Festival. Boulevard Music presents 6 free concerts on Thursday evenings at 7 pm from July 10 through August 14 in the palm-lined courtyard of Culver City City Hall. Become an entry level sponsor by purchasing one of the 100 premium reserved seats for sale at $10 each per show available at Boulevard Music and on sale June 10.
Curated by producer Gary Mandell of Culver City's Boulevard Music, Culver City's Boulevard Music Summer Festival offers something for everyone: Cajun/Creole/Zydeco from Andre Thierry and Zydeco Magic (July 10); World music with an emphasis on France from Jessica Fichot plus Argentinian rock with great vocals from Los Pinguos(July 17); BeachBoy/Jan & Dean and surf music classics from Surf City (July 24); Bluegrass from the multi-Grammy winner John Jorgenson presenting The John Jorgenson Bluegrass Band (July 31); Sambas and Brazilian dance music from Katia Moraes and Brazilian Hearts plus Charanga (music from Cuba) from Orquesta Charangoa (Aug 7); and an eclectic mix of folk, swing, bluegrass, and nostalgia from the Dust Bowl Revival(Aug 14).
Avoid the crowds and parking hassles of other areas on the Westside. Parking is free for two hours in designated parking structures in Culver City, and dozens of dining options are available within walking distance. Culver City's downtown area is Southern California's best-kept secret, featuring a wonderful mix of historic buildings, boutiques, theaters, galleries, and unique restaurants opening onto tree-lined streets.
Culver City's Boulevard Music Summer Festival takes place on Thursday evenings at 7 pm from July 10–August 14. The Culver City City Hall Courtyard is located at 9770 Culver Blvd. in Downtown Culver City (corner Culver Blvd. and Duquesne Ave.). Parking is free in designated structures for 2 hours. The courtyard opens at 4:30 pm. No glass containers or alcoholic beverages may be brought into City Hall Courtyard. For more information, call Boulevard Music 310-398-2583.