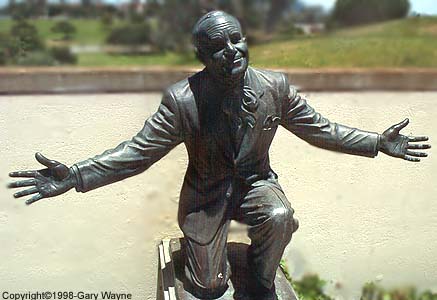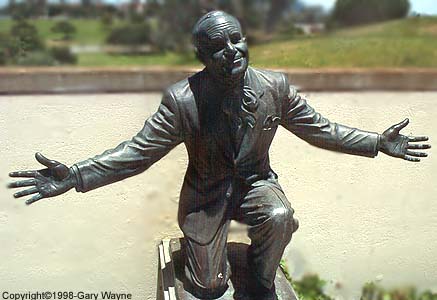 From grandiose mausoleums to gardens of remembrance to absurdly tall monuments, the deceased (and their families) go to great lengths to make sure visitors remember their lives and tell their stories. Here at Obscura Society LA, we are happy to oblige with our new monthly series.
Hillside Memorial in Culver City has been serving the Los Angeles Jewish community since 1946. It's most recognizable landmark is Hollywood legend Al Jolson's elaborate tomb designed by famed LA architect Paul Revere Williams. Scattered through the park, eternal residents include beloved comics, influential writers, powerful Hollywood producers, an infamous gangster, a stooge, a Hall of Fame baseball player, a "Boss Hogg," and many more.
Our tour will be led by Joe Walker and Louis Mata of the Southern California Gravers. They travel the city finding, learning, and discovering the cemeteries that dot this city of ours. They have made it their mission to teach others the incredible stories of those that lay forever in peace.
Notes for this adventure:
-We will be holding two tours Sunday May 18, one at 10 am and the other at 1 pm, in order to accommodate as many people as possible without having too big of a tour group. Please be mindful of what time your tickets are for.
-The tour will last approximately 1.5 to 2 hours.
-This is a cemetery, so please be respectful.
-The exact location of where we will meet-up in the cemetery will be emailed out to ticket holders closer to the date.
-We will be outside for most of the tour, so please bring water, dress appropriately, and wear a hat and/or sunscreen.
For tickets, please go to www.atlasobscura.com