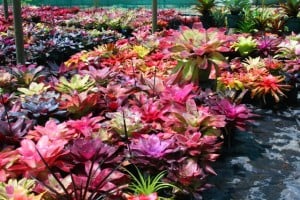 The La Ballona Valley Bromeliad Society presents its Annual Show and Sale this weekend, May 2nd and 3rd. Come and see many gorgeous plants, and buy some of your own — perfect for Mother's Day gifts!
The La Ballona Valley Bromeliad Society (LBVBS for short) is a group of bromeliad enthusiasts and plant lovers from Los Angeles and the rest of Southern California. One of the oldest bromeliad societies, LBVBS was started in 1950 by Victoria Padilla, Bill Paylen, Fritz Kubich, Charles Wiley, Lloyd Smith, and Bob Harris. Our first big annual show was held in 1953.
New to bromeliads? No problem, come to the plant care lecture and demonstration at 2 pm on both days and get off to a good start. Free admission and parking.
Veterans Memorial Auditorium, 4117 Overland Ave. (at Culver Blvd.), Culver City, CA 90230
Show hours: Saturday, 12 pm — 5 pm and Sunday, 10 am — 3:30 pm.
Plant sales: Saturday, 10 am — 5 pm and Sunday, 10 am — 3:30 pm.
More information: (323)294-9839 or email [email protected]
Club website www.bsi.org/webpages/lbvbs/
Our meetings feature a speaker, refreshments, a show and tell of plants brought by members, and a raffle table (many bargain plants for your collection!). Annual club events include the Holiday Luncheon in December and our Plant Show and Sale in May. Guests and visitors are always welcome!
The LBVBS meets at 7:30 pm on the fourth Wednesday of each month, January through October, in the Rotunda Room at Veterans Memorial Hall, 4117 Overland Avenue, Culver City, California.