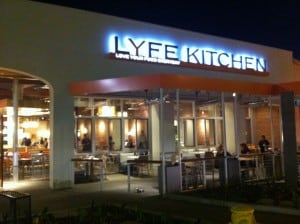 Culver City's downtown area has been booming and growing in the past years. It is the new go to place in town for modern and convivial dining. Residents and visitors alike have enjoyed world-class cuisines from different restaurants all within walking
distance from one another.
One restaurant stands out for thinking green and has taken the initiative to become a Zero Waste Sustainable Business: Lyfe Kitchen. It is the first Culver City restaurant to implement Culver City's new organics composting program. Composting is the decomposition of organic material, or food scraps, to create a nutrient rich soil amendment for agricultural purposes.
By segregating its food scraps and using compostable tableware, Lyfe Kitchen is walking the walk and talking the talk.
If you have not seen the garden boxes out in front near the plaza, you might not know how committed LYFE is to greenery in all forms. Planting Swiss chard, rosemary, and a rotating set of easy-to-grow veggies, in a space that might just be left to ornamental flowers, there's some good roots taking hold.
Not only does Lyfe Kitchen offer delicious food, it has also embraced the importance and environmental benefits of adopting a composting program: Food waste can be a valuable resource when it is recycled. When food is sent to a landfill, its anaerobic environment creates methane gas, which contributes to greenhouse gases and climate change.  Composting helps comply with California's Business Recycling bill AB341 Lyfe Kitchen joins the dynamic movement of business environmental stewardship, with strategies and practices that promote the well-being of the environment, society and the bottom line.
Kudos to the LYFE- ers and the city!
Bon appetit!
Lyfe Kitchen – 9540 Washington Boulevard, Culver City, CA, 90232
For more information about Culver City's recycling and new composting program, contact   (310) 253-6400 – www.culvercity.org   Public Works' Environmental Programs and Operations Division