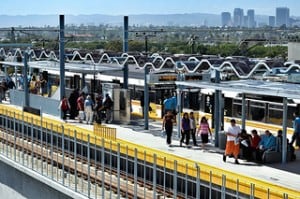 The year-and-a-half-old Expo Line light rail, running from DTLA to Culver City, has already exceeded Metro's self-imposed ridership goals for 2020, according to LACurbed—they projected 27,000 daily riders by then and hit 27,360 average weekday riders in December. (Many of them are people who live around the line.) While that's encouraging—as is the often-full-during-the-week Culver City park-and-ride lot—there is still more room for additional passengers. "[Morning and afternoon rush hour] are the only times I have someone sitting next to me," rider Tiffany Laurence told Supervisor Zev Yaroslavsky's website. "Normally, I have a whole row to myself—it's so luxurious." That's gooood. Metro's rail operations chief, Bruce Shelburne, brings up a very important point, though: That extra room will come in handy when the extension to Santa Monica opens next year or early '16. "We're not breathing hard and we're at 27,000," he said. "If we were at 40,000 I'd be awfully nervous." By 2030, the full Expo Line is expected to attract 64,000 daily riders, more than double the ridership now.
In additional good news for mass transit, Assemblymember Sebastian Ridley-Thomas joined U.S. Senator Barbara Boxer, U.S. Representative Maxine Waters, U.S. Representative Karen Bass, U.S. Transportation Secretary Anthony Foxx, L.A. County Supervisor Mark Ridley-Thomas, L.A. County Supervisor Mike Antonovich, L.A. Mayor Eric Garcetti and Inglewood Mayor James T. Butts on Tuesday, Jan. 21 for the Crenshaw District groundbreaking ceremony marking the start of construction on Metro's $2 billion Crenshaw/LAX Transit Project.
Assemblymember Ridley-Thomas said, "Today's Metro groundbreaking for the Crenshaw/LAX Line is the culmination of more than a decade of prodding and persuading to gain the necessary funding and authorization from Metro to build the Crenshaw/LAX Line and to include a below-ground station in the transit project at Leimert Park, the cultural center of the African American community in Los Angeles."
"South and Southwest L.A. residents voted to tax themselves when they approved Measure R to help pay a portion of the cost of building the Crenshaw/LAX Line. Now, they will start to see a return on their tax investment," he added.
"It will be a few years before Crenshaw area and Inglewood residents are able to take the stairs or an escalator below ground to board a train at the Baldwin Hills Crenshaw Plaza at Martin Luther King, Jr. and Crenshaw Boulevards, but when the Crenshaw/LAX Line is built and certified for operation, residents will be able ride the rails from their community neighborhoods to downtown Los Angeles, Universal City, Pasadena and East Los Angeles without needing a car," he said.
When construction on the Crenshaw/LAX Line is completed in 2018, 8.5-mile light rail mass transit system will run south from the Expo Line Station in L.A.'s Crenshaw District to Metro's Green Line Station in El Segundo with stops along the route in the City of Inglewood. Metro is studying options for building an extension that will take Crenshaw/LAX transit riders directly to the central passenger terminal area at L.A. International Airport (LAX).