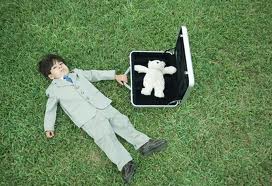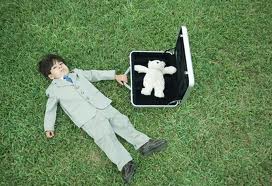 When I first became a teacher 10 years ago, I knew no different than to treat my students like corporate employees. Having just changed careers after 20 years in the business world, it made for an easy transition. The closer the classroom can seem to "the real world," the higher the student engagement, and the higher likelihood of success in high school and beyond.
In 7th grade, which is my specialty, we have a particular content standard that dealt with the reading comprehension of "Consumer, Public and Workplace" documents. In my second year of teaching, this standard went 3D by having students create their own ideas for businesses. This unit got more and more elaborate as the years went by. At first, students worked in groups to design amusement parks. Then, it became small businesses, like those you'd find in a mall, or on "Main Street USA." Over the past couple of years, they created "start-up" companies, meaning, unique ideas that have not yet been done.
They came up with ideas like an on campus culture museum, a skateboard parking facility, and a weekly school-based parking lot car wash for parent and employee cars. The list goes on. Students were interviewed and hired by their fellow students. Sometimes a misbehaving student would get "fired" by his or her peers for taking the group off task, but only after the student's behavior had been written up three times, and the matter had been brought to my attention, as "CEO" of the "company." Students assigned "homework" to each other and to themselves. Signage, scale models and product samples were produced. Not to mention, students READ numerous articles from Inc. Magazine and other business sources. They wrote up employee manuals, learned business vocabulary, and drafted memorandums. These are all Language Arts content-based activities, and students were highly engaged in the processes and the outcomes; they will remember the experience forever.
Significantly, I learned that our students (ages 11-14 in Middle School), when given responsibility, choices and some autonomy, tend to rise to the occasion. They are capable of clear-headed decision-making, they have heart, honesty and they are free of many of the ulterior motives that adults may have developed over time.
My perspective has developed into a teaching style that tends to utilize the art of delegation, just as a manager is taught to do at a multinational corporation. I remember learning this lesson in the 1980's, when I managed travel offices at American Express, and the business lesson works in the classroom too. I have, in turn, taught this to the many student teachers I have hosted from our local universities. When and if they are able to do so, let the students teach! Just today, a particularly well-prepared student led a vocabulary discussion – why not? This article itself was edited by one of my Teacher's Assistants, an 8th grader I taught last year. At first, I'd had too many "I" sentences, something I taught him not to do last year in 7th grade! His feedback helped me make this a better article.
So, how does it work? As an English teacher with hundreds of students generating hundreds more pieces of writing per day, the only way to handle the work load is to provide clear "rubrics" (education-speak for…recipe?) to break down the assignment into parts that anybody can understand and anybody can grade. When the rubrics are objective enough (for example, "number of words written"), the students can and do grade themselves. There are, of course, less objective considerations (like: did they answer the question?); those assignments can be reserved for the teacher eye. Aside from what happens on the job teaching English here, I took over the management of the Gifted Program at our school about eight years ago. In addition to planning various on and off campus activities for the GATE students, I carved out a role as advocate for them, and eventually became familiar with some of the key attributes of students who, by our school district's definition, scored consistently high on standardized tests. "High" means that they sit down to (almost any) test and are able to achieve 95% or higher. I found that other aspects often include: logical reasoning and deduction capabilities, astounding creativity, and maturity beyond their years. They are usually very good at math, and avid readers. Sometimes they do tend to be forgetful, and some exhibit socially awkward tendencies, even to the point of bordering on the autism spectrum.
Combining my experiences in the business world, and my confidence in our students' ability to function in an adult-like manner, I devised a program that had our gifted students working on real-world, school-wide activities like recycling, planning a festival, creating a news broadcast of their own, and starting a school business to raise money. A cadre of similarly-minded teachers supported these ideas and ten or so of us delivered a program for about 300 students. What happened is this: after two years of about 20% of our student body becoming involved in these programs, a clamoring arose, asking to offer it to the entire school.
We are currently in the throes of delivering just that. 95% of our students and teachers responded to a survey asking what programs they would like to see offered for the two hours a week that we have planned into our bell schedule. Students will lead their own: book clubs, peer tutoring sessions, video editing labs, and anti-Jaywalking campaigns. They will run a Student Court, a "corporation" that sells handmade items to raise funds, they will put on another Broadway play this year. Some students and teachers have elected to read quietly for the two hours, and some teachers and students will be involved in intervention programs for failing and/or struggling students.
In a cornucopia of unique programs and initiatives here at Culver City Middle School, now with our entire population mobilized and involved, we are able, within the school day, to enrich each student's personal lives, while helping them meet our academic goals. I believe that we will truly have set a new standard of excellence in education.