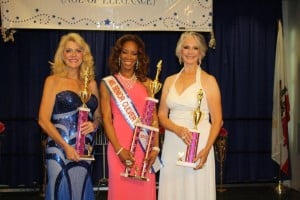 Betty Friedan had it right: Aging is not lost youth but a new stage of opportunity and strength.
With the minimum age for entrants being 60, the ten lovely and impressive women vying for the title of Ms. Senior Culver City 2012 in the preliminary Ms. Senior California Pageant at the Culver City Senior Center on Sunday, July 8 were not exactly spring chickens. They and the past California regional and state winners in attendance fell more into the sensational summer or fabulous fall categories. But whatever their season, they were all magnificently and delightfully in bloom.
The roots of this event go back to 1972, when the Senior America Pageant Program was created in the state of New Jersey, leading to the California chapter's 1986 formation in Long Beach. The California program (MsSrCalifornia.com), now the largest senior pageant program in the nation, has grown from one pageant to several preliminary pageants throughout the state (six this year) and one annual state pageant to be held in Westminster on August 25, with the national Ms. Senior America Pageant scheduled for October 7-12 in Atlantic City.
The Sizzlin' Seniors in Motion entertainment troupe, which now performs at over 50 events each year, was an instant success upon its formation in 2001 after Marilyn Kohler became the Director of Ms. Senior California in 2000.
Kohler also has her own senior performance group, The Silver Girls, all former Ms. Senior California contestants. "We perform for service clubs, retirement homes, senior centers and many other locales where seniors socialize, as well as in Laughlin, Nevada, Branson, Missouri and Atlantic City, New Jersey," she said. "I have four performance venues on my desk, scripting the shows."
The pageant obviously attracts some very capable women.
Norma Morein, the reigning Ms. Senior California 2011, studied political science and international relations at Stanford University, taught both elementary and high school and either owned or was VP Marketing for businesses involving tax shelter, packaging, catering, interior design, real estate and financing. She is also an entertainer, appearing frequently either solo or in a trio called the Eternelles.
As if that weren't enough, this single mother of two and grandmother of four recently started Wife for a Day, providing personal assistant services. "I have a disabled client with limited range of motion," Morein explained, "so I have reorganized her kitchen by placing the items she most frequently uses to make them more easily accessible."
Alise Richel, Ms. Senior Culver City 2011, is a newlywed, a voice teacher and a petite dynamo with powerful pipes. Her rendition of "I Will Always Love You" brought many audience members to their feet. She believes "every minute of life is just as important as every other minute," and is using her gifts as a voice teacher to help one of her students bring a very special quality to his minutes.
"He sang opera and performed throughout the world," Richel said. But the complications of muscular dystrophy intervened. "Attitude is a choice, and with his passion, talent, courage and fortitude, I believe he will be back not only to sing opera but also to perform in musical theater," she added.
The ten accomplished contestants beguiling the audience were Barbara Henrichsen, Wendy Ida, Gayla Kalp Jackson, Joan Land, Reverend Aynne Louise, Mary Nelson, Barbara Pergament, Mary Violette, Patricia Stewart and Marcia Zadian.
Their ages ranged from 60 to 76. The group included married, single, widowed, mothers, grandmothers and great-grandmothers that hailed from cities throughout California and demonstrated a variety of talents encompassing vocal, dance, monologue, art and comedy.
It was apparent, in meeting the contestants and the many past winners present, that life experience bestows an intriguing and compelling patina that goes beyond artfully applied makeup in enhancing and conveying a woman's essence. It was entertaining, enlightening and quite inspiring to spend the afternoon in the company of these stunning and very savvy seniors.
The program started off with a Welcome from Debbie Cahill, the center's Senior Program Specialist, who set the tone with an enthusiastic "On with the show!" And what a show it was.
Captain William C. Kohler, USMC Retired, served as Master of Ceremonies. The program included a stirring rendition of the national anthem as well as several enjoyable musical interludes by previous pageant winners. A sassy production number introduced the contestants in their striking gowns, and their antics had the audience roaring. Later, the individual talents they exhibited included several very creative touches. In one unusual talent presentation the contestant sang "Begin the Beguine" while she quickly created a landscape painting, admirably and very capably completing both song and art within the requisite time period.
The judging criteria encompassed four categories.
During the Personal Interview, which counted for 30% and was the only segment that took place privately prior to the opening of the pageant, the contestants each met individually with a panel of judges, to be questioned and evaluated on personality and interpersonal skills.
The contestants' poise, grace and stage presence were evident in the Evening Gown segment (30%) as they modeled their ooh-evoking attire before an appreciative packed house.
The Philosophy of Life segment (20%), during which each woman had only 35 seconds to crystallize and voice her thoughts, provided insights into their personal inner beauty. And considering that some people might require 35 seconds just to clear their throats, this posed an intriguing challenge which the contestants met with precision and clarity.
The Talent segment (20%) followed, giving them each not more than two minutes and 45 seconds to demonstrate that their gifts had not diminished with age, thus infusing this portion of the pageant with crowd-pleasing vitality.
The five judges certainly had their work cut out for them.
This diligent and attentive group consisted of Xavier Nuques (past president of Culver City Exchange Club), Giulia Scotti (Malibu Magazine), Rick Hudson (Parks, Recreation & Community Services Commissioner), Dr. Jay Shery (California-Nevada District Exchange Clubs Division Five Director), and Lionel Crown (aerospace retiree and former board member of the center). Credit must also be given to Jan Owens (president of Friends of Outreach) for painstakingly performing the critical function of timekeeper.
And then it was trophy time.
The Talent winner, Joan Land, had wowed the crowd with her song and dance presentation of "Whatever Lola Wants," with the added attraction of a semi-strip that exhibited a fine set of legs.
The Fourth, Third and Second Runners Up for Ms. Senior Culver City 2012 were, respectively, Marcia Zadian, Patricia Stewart and Barbara Pergament.
The First Runner Up was Gayla Jackson. In her Philosophy of Life segment she had stated that "if you're not having fun, you're not doing it right," and urged everyone to "get active in your community." For her very well-received talent presentation she had performed a comedic song and dance number extolling the mouth-watering wonders of Sara Lee pastries.
And the coveted sash of Ms. Senior Culver City 2012?
That honor went to the extraordinary Wendy Ida, a drop-dead gorgeous woman of insight and talent who would not look out of place at a Miss America Pageant. Her Philosophy of Life had stressed that "it's not too late to recapture your life, your health and your body." The gripping, dramatic monologue comprising her talent presentation had covered a range of emotions with heartfelt authenticity.
Dorcas Preston, who held the dual titles of Ms. Senior California and Ms. Senior America 2001, serenaded Ida with the Queen's Walk theme song, the crowd cheered, cameras clicked and all who had played a part in the day's well-attended and well-managed event were able to give themselves a well-deserved pat on the back.
As their next stop on the pageant trail, on August 25 Ida and Jackson, the two top finalists, will advance to Westminster to compete with other preliminary finalists from throughout the state for the title of Ms. Senior California 2012.
Permeating this Sunday afternoon experience was the belief that seniors are the foundation of America, a treasure providing resources of knowledge and experience upon which the younger generation can build for the betterment of society, a society in which, sadly, seniors tend to be marginalized. And Ms. Senior Culver City 2012, a force to be reckoned with, was passionate in describing an awareness she wants to bring not just to seniors but to the general public.
"You can do anything," Ida emphasized, "and can accomplish some magnificent things in the second half. Older people are not over the hill. Others need to realize that seniors have wisdom, they are not washed up, and by knowing them, they have a gem in their hands."
In olden times, little girls dreamt of growing up to be princesses, and maybe they still do. The excellent role models gracing the stage at the Culver City Senior Center did them one better, for they all grew up to be classy, elegant, responsible women with a captivating presence and a strong sense of self. They've made and continue to make a positive impact and contribution – and that's an achievable goal worth emulating.