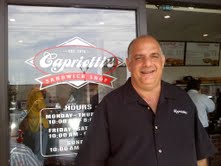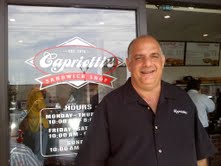 When they opened the doors to a new sandwich shop at the corner of Sepulveda and Berryman, they followed a classic rule; go where the customers are. If you live in Sunkist Park, and you are used to heading that direction for a sandwich you know that walking is a great idea, and riding a bike is even better. When we open anything in Culver City, parking is an issue, and Capriotti's is already crowded. For good reasons – it's good food.
Capriotti's sandwiches are rolled tighter than a Cuban cigar, and this is one of the keys as to why they make a satisfying lunch. There are five specialty sandwiches, along with three salads and a "build your own" option for either. The featured turkey and roast beef is fresh and shredded (hand-pulled, as their literature says) and while the bread is just average, it is soft enough to be malleable, and keep things tightly compressed. The fact of having a lot of flavors in a small space gives the sandwiches a very satisfying feeling. You are holding a feast in your hand.
On our first visit, opening day, the place was packed. The line was out the door. It took about 15 minutes for our food to be served. The kitchen is both open and hidden, with staff standing in view but the work areas and food hidden behind tall counters. You can see the person who is making your food – you just can't see the food. Eric Zaidman, the district manager for Capriotti's was more than welcoming. He found space for our bikes, took our order and made sure we had everything we needed.
Their most touted sandwich, "The Bobbie" is, as Zaidman noted, "Thanksgiving on a bun." Turkey, cranberry sauce, stuffing and mayo, I confessed that with addition of iceberg lettuce, it is my favorite Friday-after-turkey-day recipe. If the warm breezes of spring leave you longing for the other end of the year, The Bobbie will hold you until the next holiday.
The Black and Bleu Salad- greens, beef and bleu cheese,- was terrific with some very good quality bleu cheese and crisp fresh greens with the shredded beef. And so much food it ended up as two lunches.
On another visit, the Cran-Slam Club – turkey, ham, lettuce and cranberry sauce on three slices of wheat bread – was so much food it was two lunches for two people. Well, a club sandwich is traditionally a triple-decker, but this was a triplex on a full city block. Quite tasty, and a very reasonable price for four meals. The service was also much faster, with our order of sandwich and salad arriving in less than 5 minutes.
Two sandwiches, the Cole Turkey and the Slaw Be Jo (roast beef) both feature the house cole slaw, which was a bit too sweet for my liking. Sugar is a needed ingredient in cole slaw, but I prefer to have it balanced by an equivalent amount of black pepper. The sweet peppers are perfection – tangy enough to tickle the tongue, sweet but sharp in the same bite. Provolone is the standard cheese offered on most meals, but swiss and American are also on the menu.
Kids enjoyed the simpler offerings- the meatball sub, the ham and cheese, and the sausage sandwiches all got big smiles in between bites. I admit that I have not sampled any of the vegetarian offerings, but I'll make that my next visit. If it's a good day for a bike ride, it's a great place for lunch.
You can order on line at www.capriotti's.com, or call 310-391-6000.