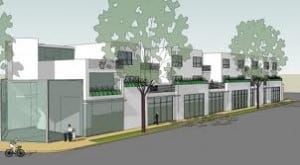 It was a long time coming for Culver City, but Monday March 26 saw the ground breaking for Tilden Terrace. As noted by Mayor Mehaul O'Leary, "our first affordable housing project for families in
50 years." With 33 residential units planned to be available for families in the new development on West Washington, the need far outstrips the resource. A waiting list has more than ten thousand names.
Planned to be a three-story building with 10,700 square feet of commercial space designated on the ground floor, Tilden Terrace signifies the success of many years of planning. In a conversation in 2011, Sol Bluemenfeld stated "This really is one of our biggest triumphs; the neighbors worked with [the redevelopment agency] and the developer. This is one of those rare victories where everyone got what they wanted."
Culver City Housing Administrator Tevis Barnes was quoted as saying that there is a waiting list with 10,023 people on it. There will be a  lottery to determine who will live in Tilden Terrace.