Culver City High School graduates from the classes of 2010 and 2011 made their Hollywood debut last weekend with their production of Styx Run Dry, a funny but thought-provoking look at the idea that we should all believe in something, whether it is the power of love or a business statistical model.
The play was written by Alexa Grace and Luke Medina, with significant collaboration from the other members of the cast, who wrote pieces of their own monologues and helped to shape their characters. Those characters were Greek gods and goddesses sitting in a bar in purgatory. It opened with some improvisation, as Brandon Blum (Dionysus) and Luke Medina (Hermes) quarreled over the television and Jesse Pilchen (Poseidon) presided over the bar. Hades (Kevin Mitchell) sat morosely in a chair glowering over a globe as he considered the fate of the gods, which was that they were all going to disappear as they became increasingly irrelevant to the mortals of earth. Aphrodite (Emma Niles) and Athena (Lexa Grace) debated how to regain the attention of those mortals, whether through faith and love or through the improved sale of presents and cards.
As they transitioned from improvisation to script, Zeus (Nathan Palman) arrived, in a Santa Claus suit, which he explained he started to wear when he realized that mortals worshiped a "mighty tree" which had many followers. "They would line up to meet their powerful leader. Each worshiper begged for their desires, just as they used to beg me," he said wistfully. So, "After smiting him, I took his place on his throne." Palman's dry, witty, delivery was perfect for the role of a god who was struggling to figure out how to get back into touch with the mortals whose faith he needs for his survival.
As the gods bickered, however, the lights kept going out with a loud crash. When they returned, a god had disappeared, first Hermes, then Dionysus, then slowly the others.
Their world was interrupted by the entrance of Cora (Sierra Parsons) a young mortal who had just died. Cora, unfortunately for the gods, was the last mortal to believe in them.  After she turned down a drink from Dionysus, who simply could not understand her aversion to alcohol, the scene suddenly shifted to a piece of Cora's life, with her drunk mother (Madison Neufeld) and her angry father (Louie Rey.) While her mother refused to help her with her homework and her father yelled that he needed some peace and quiet and told her to go to her room, I wondered, "Is that what parents look like to their children?"
The gods had stepped back and observed this piece of Cora's life, and now wanted to use it as anthropological research. They peppered her with questions, trying to understand how they could understand this episode to regain the interest of mortals in the gods. "We need to reinstate family values," Athena concluded. "They need gods to give meaning to their meaningless lives," retorted Aphrodite. Grace and Niles gave the two goddesses great dignity and power, along with a healthy dose of humor as they fought over their competing solutions to the gods' problems.
We then met Sam (Conor Murphy), Cora's boyfriend, who had, according to Cora," reached new levels of nerddom." But this is all fodder for the gods, with Athena taking notes as they kiss. Later, there was a long Skype conversation between Sam and Cora. Both actors did an excellent job of maintaining the dialogue over the internet, looking into their webcams as though the only reality around them was the person on their screen. After Cora's father berated her for not doing the dishes and stomped out of the room yelling, "You are so goddamn selfish, you are just like your mother. It's no wonder your mother left. Who would want a daughter just like you," Cora and Sam started quarrelling over Skype with Athena and Aphrodite again trying to figure out how the gods could make themselves relevant to the situation.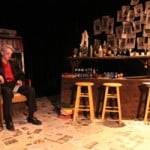 As the play progressed, the gods continued to observe episodes from Cora's life, and tried to figure out what they meant for their own long-term survival. But those lights kept going out with a loud crash, and the gods kept losing one of their own. As each god disappeared, a "Wanted" poster would appear on the wall behind the bar. Eventually, that of Hera, Zeus' wife, showed up on the dartboard. The only gods left were Zeus and Hades, and Zeus realized that his time was limited. He meditated on the power of faith, and realized that "it is more than manufactured feelings."
"I led them to believe that you could replace genuine commitment to a higher power with consumerism" he said.
Finally, Cora was left on stage with Hades, hacking and coughing and taking swigs straight from a bottle, with no offer of hope or joy for her as the lights faded to black."
The play was directed by Luke Medina and Joey Guthman, who kept the pace brisk and the tone light, and who did an excellent job of making sure that every single line was heard and understood by the audience. The actors were confident and commanded the stage, and were convincing in their characters. Brandon Blum was particularly funny as the drunken Dionysus.
After Saturday night's show the audience had a chance to ask the company about their process. Casting the show was interesting, Guthman joked, because there exactly as many actors as there were characters, so, "We couldn't say 'This person isn't good enough' and we don't have to cast them." Chavez said that the actors gravitated toward certain characters, and that the play gave them a chance to take parts that were different from their usual roles. This seemed especially true for Rey, whose past performances at Culver City High School, including in The Laramie Project, were quiet but powerful. Seeing him become a toweringly angry father was thoroughly intimidating.
For the actors and production crew, the process of putting together a play from scratch with their own company was quite different, Pilchen said. "We got to make our own rules and do our own thing." During one recent rehearsal, "If you got one of the lines wrong, you got sprayed by a hose." It was, he said, the most enjoyable experience possible. It was also a new experience to be responsible for absolutely everything. Blum, who was one of the set designers in addition to being an actor, said that they had to find everything themselves. This was an impressive feat, given the detail in the set, from the variety of liquor bottles on the bar to the books holding up the TV, which included a heavy "Complete Oxford Dictionary P-Z" and National Geographic's "Great Rivers of the World." The process, "opened us to the broader world of theater," Palman said.
The company received high praise from Madeline Ehrlich, who was a member of the Culver City Unified School District school board when Academy of Visual and Performing Arts was founded in 1996. "Did I ever think that I was going to see this? I am totally in awe," she said, to applause from the audience, which was largely made up of people from Culver City who had trekked to Santa Monica Boulevard in Hollywood to see the play. Grace noted that the AVPA had changed the lives of all the actors. She also thanked Sheila Silver, the AVPA's theater teacher for the last two years, who was in the audience.
So what is next for this group of college freshmen and sophomores? They are not sure. They said that they would like to continue their company, formally known as The Skit Company. However, they will be scattered among colleges from Santa Cruz to the east coast. As Mitchell said, "We are trying to get through this weekend. We will talk about the future of the company and how it will progress."
Written by Christine Ferreira