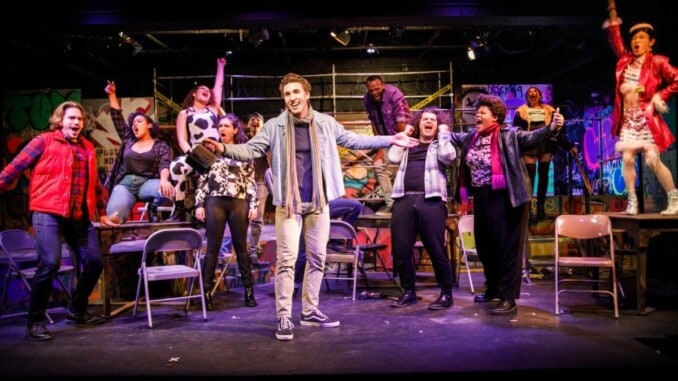 It seems like every generation has its own seminal Broadway musical. Just like the Hamilton mania that overtook everything a few years ago, in the mid-1990s, there was nothing bigger on Broadway than Jonathan Larson's Rent. Based on the Puccini opera La Boheme, Rent is set in a late '80s/early '90s East Village in New York, chronicling the struggles of a group of artists, for survival both financially and physically, as many are HIV+. Many kudos should be given to the Kentwood Players for choosing to move away from more traditional fare with its current production of the edgy musical.

A not so quick summary of the action, the first act taking place on Christmas Eve and the second in the year that follows. Mark (Logan Rice) is nascent filmmaker determined to document the struggles he and his rock musician roommate Roger (Garrett LaSource) in a condemned building (without heat and sometimes electricity) their upwardly mobile former roommate Benny (Micah K. Blanks) has been letting them live in rent-free until recently. Mark is talked into helping his ex girlfriend Maureen (Emilie Mirvis), who has recently dumped him for public interest lawyer Joanne (Jalana Phillips), put on her performance art piece protesting the eviction of the homeless from the lot next to Mark and Roger's building. Meanwhile, Roger is mourning the girlfriend who gave him HIV when he meets their neighbor Mimi (Delaney Holliday), a stripper and drug addict, looking for someone to light her candle in the dark. Mark and Roger's computer-age philosophy teacher (and anarchist) friend, Tom Collins (Donald Riddle), is mugged on his way to their apartment, and is saved by drag queen Angel (Kit DeZolt), and sparks fly. The rest of act one moves through the events of the evening, which ends with our main characters being evicted from their apartment surrounded by old friends and new. The second act follows our main characters through the few highs and many lows of the next year, especially as they deal with relationship problems and declining health. Like its inspiration, this musical does not have a happy ending.

Ultimately, the piece is a bit of a mess, with a half dozen stellar songs (including the breakout "Seasons of Love", in addition to "Light My Candle" and "Take Me or Leave Me"), but many of the songs are hard to follow or merely forgettable. The acclaim the show received, including a Pulitzer and a Tony for Best Musical, in some ways stems from both its subject matter (a critique of the Reagan era) and the tragic death of its creator on the eve of its off-Broadway premiere. Had he lived, the talented Larson may have had the opportunity to rework it for the better.

Nevertheless, the Kentwood Players have mounted an admirable production. The cast (including ensemble members Avery Bebon, Kyler Bray, Jayla Bryant Elijah Green, Sara Blanche Hayes, Charles Keppler, Kat Montanez, Julia Sison, Jillian Stern, Ethan Trejo) all give heartfelt performances, led by the stellar voices of Rice, Holliday and LaSource (many of the rest of the vocal performances would have been better served with microphones). Director/choreographer Marcus S. Daniel is to be congratulated for his inventive staging on the small Westchester Playhouse stage. Michael Mullen's costumes and Shawn Summerer's sets greatly enhance the production.

Rent, produced by the Kentwood Players at the Westchester Playhouse, May 12-June 17.
Brenna Guthrie