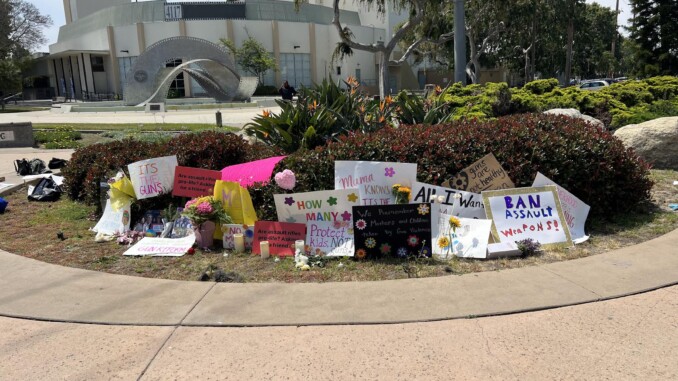 The corner of Overland and Culver is often the site for banners and picket signs, and Mother's Day saw a gathering protesting gun violence and working for gun safety in Culver City. 
Organizer Megan Oddsen of Culver 878, a local group educating on gun safety, welcomed supporters from larger national organizations, but emphasized that this was a local issue. "Of course, gun violence is a problem all over the country, but Culver City has the ability and the opportunity to make this a safer place. Our gathering today is to remember and honor those who have lost their lives to gun violence."
The prevalence of retail gun sales at several locations in Culver City puts our neighborhoods right next to the city of Burbank as top spots for gun sales in the Southland. 
Laura McMullen, a local resident and activist offered her thoughts on why she was there.  "On a day that is meant to uplift mothers, to allow them some rest and pampering, I don't feel I can take a day like that for myself without honoring the mothers and children that don't get to celebrate this day because they were taken from us by senseless gun violence. "
The flowers and signs that were placed together on the hedge just at the corner formed an impromptu shrine, and many of those who came together were deeply committed to moving Culver City towards being a model for sensible firearms regulations.  
"Being a mother (or parent) today has a different kind of pressure added, with the school shootings and random acts of gun violence that happen every day in our country," Melody Hansen said about her commitment to show up and stay active.  "Every day the tragedies are in our face, and we can't sit by and do nothing anymore. I fight not only for my own children and family, but for all the children and families."
Margot Bennett, of WoMen Against Gun Violence shared "Each and every day hundreds of people in the U.S. are killed or wounded by gunfire.  We cannot stand idly by.  We have a moral obligation to make the killing and the daily tragedies stop.  We rally, we lobby, we legislate, we make our voices heard.  But the most important and impactful action we must all take is to VOTE!"
Oddsen concluded "We are just hoping to prompt inspiration for what steps we can take against gun violence on federal, state and local levels."