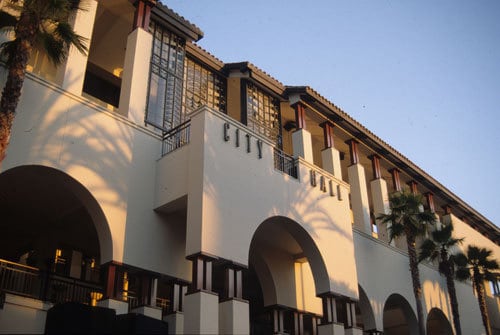 Rolling back the short lived 'open street' program on one of Culver City's shortest streets, Main Street will be open for vehicular traffic on weekends, but still closed for the Farmer's Market on Tuesdays. At the Culver City Council meeting on March 13, 2023, action item #1 on the agenda saw a vote of three to two to return cars to Main Street, rather than keep the area as a weekend pedestrian right of way. 
Main Street was closed during the pandemic, but in June of 2022 was partly reopened, keeping pedestrian space open on weekends, and for the Farmer's Market. The situation was both liked and disliked, with cycling activists championing the case for public safety, and business interests looking to return vehicular traffic for the sake of revenue. 
The staff report noted that council had already approved the purchase of the retractable bollards that would punctuate the space on days when it would be closed to car traffic
Comments on the item were numerous, with 33 people signed up to speak. 
Planning Commissioner Nancy Barba joined with many other in noting that keeping the street occasionally free of cars did not allow for any amenities beyond that lack of traffic. She noted that "Right now it's neither here nor there… if this city wants to be seen as forward facing…we need to activate it." 
Travis Morgan, as an official representative as the Vice Chair of the city's Pedestrian and Bicycle Committee, noted that the committee had discussed the topic at length during their July 2022 meeting. They considered the "impact of the new Amazon offices at Venice and CulverBoulevards…No new data was offered in regard to the closure of Main Street [traffic impact.] The BAPC supports the full closure of Main Street to [auto] traffic." 
While many spoke from the business community in favor of reopening the street to traffic, certain that there would be more people using the office space as pandemic protocols are lifted, the spotlight was on the entrance to the garage at the Culver Steps.  
 The unprecedented amount of money donated by Hackman Capital Partners in the last election cycle was part of an open understanding that the owners of the Culver Steps were focused on getting Main Street reopened full time as a traffic artery. Getting the votes in place on the council assured that.  
Council voted three to two, with Mayor Albert Vera. Jr. Council member Goran Eriksson, and Council member Dan O'Brien all voting in favor.
The location of the Farmer's Market has been a topic that has come up several times before the council in recent years. How long that institution can hold out against corporate real estate interests remains to be seen. 
Judith Martin-Straw