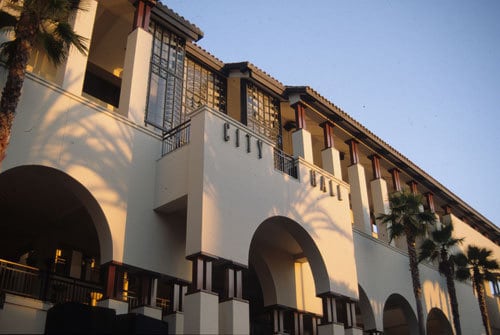 "What does Culver City need?" resident Kate Ainslie asked from the audience at the Culver City Council meeting on August 22, 2022, during public comment on the agenda item on military equipment for the police department. "As the daughter of a Marine veteran of war and the sister of a former police officer, I value the lives of our [police] but I don't see that as being in conflict with opposing this policy. The data is so clear; bringing this equipment into communities does not make people safer. What does Culver City need?  We need housing, we need mental health crisis intervention and social work. We need better paid teachers who can live in the community they teach in. We can't get there if we keep pouring more money into policing." 
The agenda item, a Public Hearing on the ordinance 'governing the use of military equipment by the police," was one that drew huge community response, and Ainslie was just one of dozens of residents who spoke to the council. While many were against approving the policy on the agenda, many other residents were equally passionate that the police require access to the equipment to save lives, to keep people safe, and prevent mass casualties. 
Local resident Deborah Weinruch stated, "The reality of our public safety needs are not what they were in the past ….the rise in daily and sometimes hourly crime means that our police officers are expected to be everywhere… and tragedy can strike anywhere, at anytime, even in Culver City. We owe it to our officers to give them every tool available to enable them to do their jobs properly." 
When it was the council's time to deliberate, Council member Yasmine Imani McMorrin, a member of the sub-committee on policing, brought back the idea of citizens' oversight committee which had been part of pervious discussions. "That could help with transparency – I'm troubled that this is where we are, but this is where we are." 
Council member Alex Fisch asked City Manager John Nachbar to speak to the status of mobil crisis response, a non-police unit to interact with people having mental health issues, "That's what I'm often getting asked about." Nachbar said that staff would have a report to present on the progress next month. It would be on the "creation of a new department, incorporating housing, rent control .. responding to crisis on the CAHOOTS model." The CAHOOTS model, an acronym for Crisis Assistance Helping Out On The Streets, originated in Oregon in 1989 and has been used by many cities as a template for a third path – outside of police and fire/paramedic response – to deal with emergencies. 
Vice Mayor Albert Vera, Jr. felt that the language was incendiary. " I think the name of it alone puts people up in fear – military equipment- it's like defund instead of reimagine…The community should embrace this [transparency.] If people feel that this equipment [is excessive] I'd rather [the police] have it and not need it than need it and not have it." 
Mayor Dr. Daniel Lee took the other side, saying "The more lethal items we have in our repertoire, the more likely we are to use them." Noting that the public trust in the Police Chief, Manny Cid, was a part of many comments, he stated that personnel often changed, and we could not count on one particular person to be the critical factor in the decision to use 'military equipment.' Lee also cited the citizens oversight committee as being approved by the council in 2020. 
The vote was three to two, with Council member Eriksson, Vera and Fisch voting in favor, and McMorrin and Lee against. 
Judith Martin-Straw