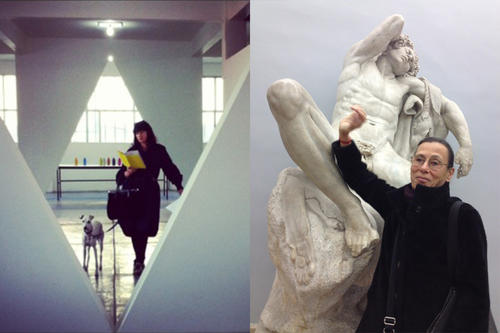 The Broad and the Wende have come together to present two performances by artists Renée Petropoulos (Analog Among Nations: 2022 / WB: Sewing Circle) and Yvonne Rainer (Trio A with Flags, 1970) that engage issues of identity, national symbolism, and globalization. In conjunction with The Broad and the Wende's respective exhibitions exploring the meanings and inferences of national flags, the first performance will take place at The Broad as part of their special exhibition This Is Not America's Flag on Saturday, August 27. On Sunday, August 28, the Wende will host the second performance underneath the flags of our current exhibition, The Medium is the Message: Flags and Banners, with doors opening at 6 p.m. for the performance, which will include a reception prior to the event start as well as during intermission.

Renée Petropoulos' Analog Among Nations: 2022 is a work that begins as a consideration of national anthems. It features various voices describing, singing, and remembering pasts and histories that call forth the specificity of place. Through sound, the cacophony of feeling intertwined with faith can reveal the constructions of our societies of nations.

Trio A with Flags (1970), a version of Yvonne Rainer's Trio A (1966, originally titled The Mind is a Muscle, Part 1), was first performed in Judson Memorial Church in 1970 by members of the Grand Union at the opening of The People's Flag Show, an art exhibition mounted to protest the recent arrests of people purportedly 'desecrating' the American flag. This iteration of the dance was performed wearing "only an American flag tied like a bib around the neck." Rainer described the performance as "a double protest" against both censorship and war, and in her book, WORK 1961-73, she writes, "To combine the flag and nudity seemed a double-barreled attack on repression and censorship." Yvonne Rainer granted permission for her Trio A with Flags to be taught by Brittany Bailey to Mike Tyus and Luca Renzi.


To RSVP, go to wendemuseum.org and click on 'programs'