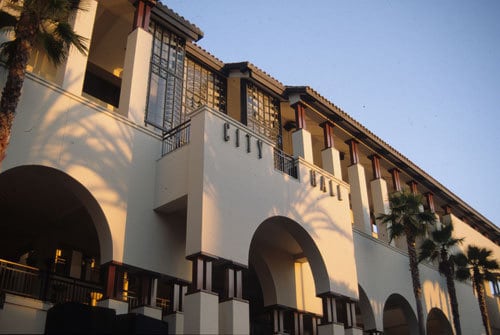 After many public meetings, hours of discussion, and last night's 37 speaker cards, the Culver City City council voted unanimously to approve recreating the AmVets building at 10858 Culver Blvd as the community center proposed by the Wende Museum.
The ongoing challenge of the housing crisis had put the transformation on hold while the city considered if the site might be suitable for emergency housing. The proposed motion was finally split into two so that the council voted separately on approving the center and putting out a request for proposals for housing possibilities on the adjacent lots.
The city council meeting of Feb. 24, 2020 took on the staff report on converting the currently unused location to the 'Swiss Army Building' that had been proposed by the non-profit Wende Museum, and reviewed the many functions that the building proposed to serve. Planned to incorporate both the AmVets organization and Upward Bound House, a residential service for homeless families as well as offering educational programs for the school district, it would also be a new home for the Mayme Clayton Museum and Library, with artist-in-residence housing.
There were dozens of residents speaking in favor of the concept. Hope Parrish, the president of the Culver City Historical Society lauded the creation as a strengthening of the 'Cultural Corridor', as did former Mayor Jim Clarke.
Steven Fisher, the Executive Director of the Mayme Clayton Museum and Library, noted the new center would return the Clayton to Culver City, which was evicted from their previous home of 13 years by supervisor Mark Ridley-Thomas. "Giving the Mayme Clayton a place for permanent exhibits and events would be a welcome homecoming for us."
But more than a few felt the housing crisis overruled any need for enhanced community space. Disa Lindgren and Mark Lipman both spoke to persuade the council that the space should be prioritized for helping the homeless.
Christine Mirasy-Glasco, the Executive Director of Upward Bound House, spoke from the podium about how the community center would help by giving them a place to help prevent people from becoming homeless, and offering guidance towards services for those in need.
The unanimous vote on the approval of the community center was followed by a 4-1 vote on the RFP for additional housing.
Judith Martin-Straw