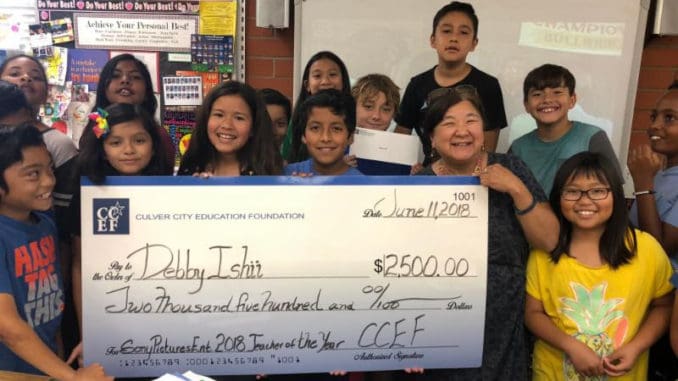 he past 20 years Sony Pictures Entertainment has generously awarded the CCUSD Teacher of the Year winner with a donation of $1,000 to be used to further their inspiring work in the classroom.
Debby Ishii, the 2018 district Teacher of the Year winner, received her donation at an award ceremony at La Ballona elementary school on June 11th.
In recognition of the 20th anniversary of their sponsorship of this award, Sony announced that this year's award would be increased to $2,500. In addition, this May all past winners from the last 20 years were invited to CCEF's Tribute to the Stars gala fundraising event as guests of Sony.
CCEF thanks Sony Pictures Entertainment for their long-standing commitment to CCUSD schools and our students. We are proud to join with Sony to recognize the tremendous dedication and inspired learning opportunities that these teachers have provided.