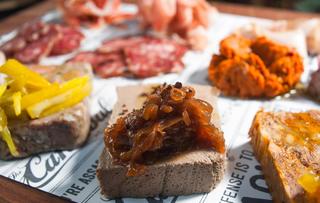 With a steady stream of praise from LA Eater, Los Angeles Magazine and the omnivorous Jonathan Gold, Lukshon has been serving Asian food in unique and delicious presentation for years at the Helms District, much to the delight of CC Foodie. All star chef Sang Yoon will be launching a new six-course tasting menu for $110 that even comes with a dessert, (but doesn't include tax or tip)
As noted in  LA Eater, dishes will include a Channel Island box crab miang with shallots, avocado, and Tahitian citrus; grilled Austrian wagyu "au poivre" with white cucumber and red gem lettuce; and finally the pineapple sticky rice with compressed pineapple and Thai green curry sorbet.
The new tasting menu commences June 15, with reservations available beginning May 22 on Lukshon's website. They'll have a variety of wine pairings to go alongside the menu, priced between $45 and 85 a person. Reservations for the tasting menu start at 5:30 p.m. and go until 8:30 p.m., plus two seatings on Friday and Saturday at 6 and 8:30 p.m.
Lukshon will still serve its normal lunch and dinner a la carte menus, plus a $70 per person "family-style" tasting menu with the restaurant's classic dishes. Before he opened Lukshon and Father's Office, the Top Chef Masters contestant was the executive chef at Michael's in Santa Monica.