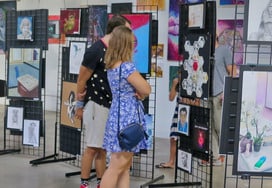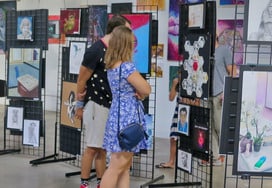 ARTWALK 2017 will celebrate the beginning of the fall art season with galleries exhibiting new and distinguished artists, a pop up installation by Culver City Unified School District's Academy of Visual and Performing Arts (CCUSD AVPA), musical and dance performances throughout the day, interactive art experiences, chalk art for all ages, and special offerings at several area restaurants.
As parking in the area is limited, guests are encouraged to carpool, bike or take public transportation to the event. ARTWALK 2017 is serviced by Culver CityBus Line 1 and Line 4 which connects to the Metro Expo station at La Cienega and Culver City Stations. Visit www.culvercitybus.com or call 310.253.6500 for schedules and to plan your trip.
Guests are requested to avoid parking in the residential area surrounding the Culver City Art District. The event is sponsored by the City of Culver City, The Culver City Chamber of Commerce, ArtScene, Fresh Paint, Helms Bakery District, CCUSD AVPA, Charlie Company and Bar and Garden.
More information about the ArtWalk and updates regarding activities, gallery events, music venues, performers, and performance times are available by visiting the www.culvercityartsdistrict.com