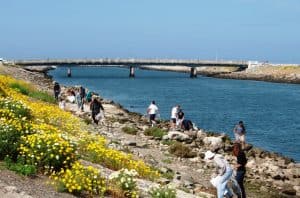 Do your part in cleaning the California Coast during the annual Coastal Cleanup Day (CCD) in Culver City. CCD is an international event with over 60 participating countries around the world, making it one of the largest volunteer efforts on the planet! Coastal Cleanup Day in Culver City is a fun way for individuals, neighborhoods, schools, and volunteer groups to get involved and demonstrate their commitment to healthy water along the Ballona Creek bike path. Saturday, September 16, 2017, from 9:00 am to 12:00 pm, at any of the four hosted registration sites along the Ballona Creek bike path in Culver City:
Syd Kronenthal Park (at the bike path entrance)
Duquesne Avenue (north of Culver City Transportation Building)
Overland Avenue (behind Julian Dixon Library on bike path)
Jefferson Boulevard/ Hetzler Road (south side of the street)
Don't forget to register for the event and sign the waiver form, select a location to work at, and wear weather-appropriate clothing. Cleanup supplies are provided at all sites, but in an effort to be even greener this year please try to bring buckets, garden gloves, and reusable water bottles to reduce our environmental impact as we join over 12,000 volunteers from all over Los Angeles County to rid our waterways of unsightly and harmful debris.
Be part of the effort in Culver City to get rid of trash, not wildlife! For additional information, call (310) 253-6400.