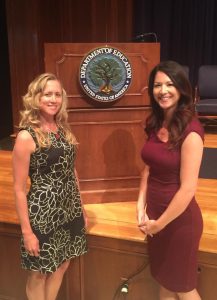 CCUSD was nominated by the California Department of Education for its extensive efforts in not only teaching environmental sustainability but also walking the walk to make the district itself more sustainable.
The recognition rewards schools and districts that demonstrate exemplary achievement in three "pillars." Pillar I: reduce environmental impact and costs; Pillar II: improve the health and wellness of schools, students, and staff; and Pillar III: provide effective environmental education that teaches many disciplines and is especially good at effectively incorporating science, technology, engineering, and mathematics (STEM) education, civic skills, and green career pathways.
"CCUSD is working hard to foster a culture of sustainability," said Board of Education member Kelly Kent. "When people come to CCUSD's campuses and see our solar PV arrays, award-winning custom designed sorting stations, Green5 banners and posters, they know the District embraces the responsibility to create a more sustainable world. CCUSD students and staff have cultivated a habit of practicing the Five Rs, and an understanding of what kind of positive impact they are making as a collective community. And, as they go out into the world, they are carrying this knowledge with them."
At the event, 45 schools and 9 districts were honored for their exemplary efforts to reduce environmental impact and costs, promote better health, and ensure effective environmental education. In addition, 9 colleges and universities were honored with the Postsecondary Sustainability Award. Representatives from honored schools, districts, and postsecondary institutions received sustainably crafted plaques in recognition of their achievements. Board member Anne Allaire (right) and CCUSD Sustainability Coordinator Shea Cunningham represented the District at the event (photo above).
The honorees were selected from a pool of nominations made by 28 state education authorities, including 27 states and Department of Defense Education Activity. The list of selectees includes 39 public schools and 6 private schools. The public schools include 1 charter and 5 magnet schools. Forty-four percent of the 2017 honorees serve a majority disadvantaged student body, 14 percent are rural, and a third of postsecondary honorees are community or career and technical colleges.
Geoff Maleman