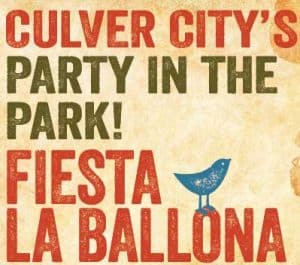 Fiesta La Ballona, Culver City's "Party In The Park" will be held August 25-27, 2017 at Veterans Park located at 4117 Overland Avenue. The popular Culver City event features carnival rides and games, live performances, over 100 booths spotlighting local organizations as well as featuring artisan wares and other vendors, a petting zoo and pony rides, a beer and wine garden, food trucks and a food court, and other special events. Fiesta La Ballona is bicycle-friendly and strives to be a zero waste event. Admission is free to this spectacular end-of-summer festival. Fiesta La Ballona is part of the City of Culver City's centennial celebration this year.
Last year, Fiesta attracted more than 30,000 visitors over the course of the weekend. Fiesta La Ballona began as a weeklong celebration of the region's early settlers and has evolved into a three-day festival that kicks off the afternoon of Friday, August 25th and closes down Sunday night, August 27th. The event is named after the La Ballona Creek, an 8.8-mile waterway that flows through Culver City. Fiesta hours are 4:30pm to 10:00pm (carnival rides start at 6:00pm) on Friday, August 25; 11:00am to 10:00pm on Saturday, August 26; and 11:00am to 9:00pm on Sunday, August 27.
The City of Culver City's Parks, Recreation and Community Services Department and the Fiesta La Ballona Committee organize and produce Fiesta with the support from scores of volunteers. A variety of local sponsors also help fund and support Fiesta. Information on unique and tailored sponsorship opportunities is available by contacting [email protected] or 310-253-6667. To learn more about Fiesta La Ballona or to sign up to be a volunteer, visit the website at www.fiestalaballona.org. You can also find Fiesta La Ballona on Facebook, Twitter, and Instagram #FLB2017.