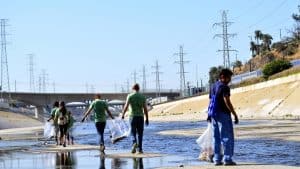 The Friends of the LA River is proud to present the 28th Annual Great LA River CleanUp: La Gran Limpieza. FOLAR's annual CleanUp has exploded in recent years, shattering records for volunteer turnout and trash collected, and is the largest urban river cleanup in America. The 2016 CleanUp attracted 9,000 volunteers—individuals and groups—who removed over 70 tons of trash from the LA River at more than a dozen sites. The 2017 CleanUp will be held at 14 sites along the entire length of the LA River on the last three Saturdays of Earth Month (April 15th, 22nd, and 29th) 9:00 am to 12:00 pm. Registration for volunteers is open at www.folar.org/cleanup.
The CleanUp is a popular event for Angelenos of all ages and backgrounds, attracting families, students, elected officials, and hipsters to the River with FOLAR every April. The range of volunteer groups, along with the 1000s of individuals, demonstrates the ubiquitous interest in and passion for the LA River. Volunteer groups range from scout troops, utilities, and entertainment, to religious organizations, labor unions, and a bevy of non-profits.
"The Great LA River CleanUp is the defining event on the LA River. It's become the largest urban river cleanup in America; last year had 9,000 volunteers who picked up 70 tons of trash," states Marissa Christiansen, FOLAR's Executive Director. "When Angelenos get involved with their River, they often start at our CleanUp."
"Each area of the Los Angeles River is unique and requires special attention and appreciation," says Lewis MacAdams, FOLAR's Founder. The CleanUp focuses primarily on the soft-bottomed and green sections of the LA River which are, in themselves, incredibly diverse. The sites range from the bucolic Sepulveda Basin in the San Fernando Valley to the Golden Shore Marine Reserve in Long Beach, where dolphins and seals are a common sight.
The CleanUp takes place at the following 14 handpicked sites along the 51-mile river, on the last three Saturdays of April, each day from 9:00 am to 12:00 pm:
April 15 – Upper River: Bette Davis Picnic Area / Sepulveda Basin at Balboa Blvd / Tujunga Wash at Haines Canyon Channel
April 22 – Mid River: Arroyo Seco Confluence / Bowtie Parcel at Fletcher Drive / The Frog Spot / Los Feliz Blvd / Marsh Street Nature Park / Steelhead Park / Sunnynook Footbridge
April 29 – Lower River: Compton Creek at Artesia Metro Station / Compton Creek at Del Amo Metro Station/ Golden Shore Marine Reserve / Willow Street Estuary
In addition to the trash pick-up, volunteers will be entertained by popular local bands that come to the CleanUp to connect with the LA River community. Select sites will also feature FOLAR's 38' mobile visitor and education center – the LA River Rover.
Volunteers will receive a FOLAR reusable tote bag, a custom-designed FOLAR t-shirt, and a gift card from Rubio's Coastal Grill. Refreshments, snacks, and sunblock will all be on hand to keep volunteers healthy and hydrated.
The 2017 CleanUp is made possible through sponsorships from the City of Long Beach Clean Team, long-time partners REI Co-op, Toyota Financial Services, and Rubio's Coastal Grill, who are joined by new sponsors Soylent and Skanska as well as many others. Sponsorship opportunities are available for the 2017 CleanUp, information about sponsorships is available at www.folar.org/cleanup/sponsor.
Angelenos can register for the CleanUp and get more information at www.folar.org/cleanup. Group registration is available for groups of 10 or more volunteers and is available at www.folar.org/cleanup/groups.
"When you see so many people on the River working together in their FOLAR shirts it warms your heart," adds Christansen. "I am so inspired when I think about countless members of the River community pouring their love into our River over the last 28 years."